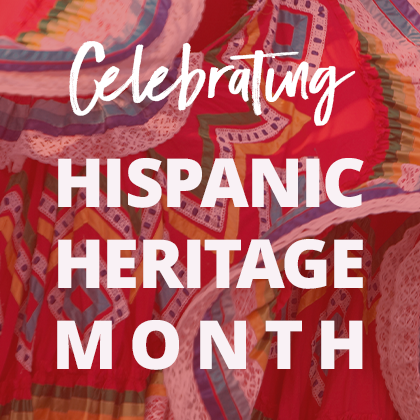 Celebrate Hispanic Heritage Month With Cooking & Conversation at Rio Salado College
Every year from September 15 to October 15, the United States honors the contributions of Latinx and Hispanic communities with the celebration of National Hispanic Heritage Month.  Started in 1968 by Congress as Hispanic Heritage Week, it was expanded to a full month in 1988. It is a time to honor the significant cultural, social, and historical achievements of the Hispanic community. 
At Rio Salado, we celebrate the achievements and vital spirit of our Hispanic community! Come celebrate Hispanic Heritage Month by sampling the flavors of Hispanic cuisine at our cafe or by attending one of our heritage events.
Ideals of Belonging: Continuing the Legacy of Civil & Personal Rights
Join us on October 5th from 1-2:30 p.m. as we host a joint event with our partners from the American Public University System. We will have the opportunity to hear from Rio Salado and APUS students, as well as guest speaker Alejandro Chavez, grandson of the legendary labor leader and civil rights activist Cesar Chavez. More details at https://deibcollaborativeforumsept.splashthat.com/.
Cafe Food Specials
All month long our Café @ Rio team has been spotlighting regional flavors throughout Hispanic Heritage Month. So far, they've featured Mexican and Cuban dishes as specials. On October 14th, Salvadoran cuisine will be the featured meal of the day.
Pupusa Meal Kit & Cooking Demonstration
Savory flatbreads made with cornmeal or rice, pupusa are the national dish of El Salvador. For this month's Rio Fresh Kit, our take-home, make-at-home meal will be Black Bean and Cheese Pupusas with Curtido and Salsa Roja. Each Rio Fresh Kit comes with detailed instructions and all the ingredients you'll need to make this delicious dish in the comfort of your own home. You can order your Pupusa kit at https://www.eventbrite.com/e/rio-salados-riofresh-hispanic-heritage-month-pupusa-kit-tickets-174305912677. Details on pick-up times for collecting your kit will be provided on the checkout page.
Chef Ken from our Café will give a demonstration on how to bring these savory beauties to life on October 14th from 12-1 p.m. Chef Ken will show viewers how to prepare Black Bean and Cheese Pupusas with Curtido and Salsa Roja. You can follow along step-by-step with the ingredients if you order a Rio Fresh Kit. Register for the cooking demo at https://us02web.zoom.us/meeting/register/tZEsduusqD8iH9VcNvf9Pvyd7O8EMys05-t3.
Learn More From Our Library
The Rio Salado Library is proud to celebrate the rich culture, diversity, and contributions of Latinx and Hispanic communities. The National Hispanic Heritage Month 2021 Guide highlights events and resources that can help you learn more about Hispanic heritage.
Share this article