Friday, September 10, 2021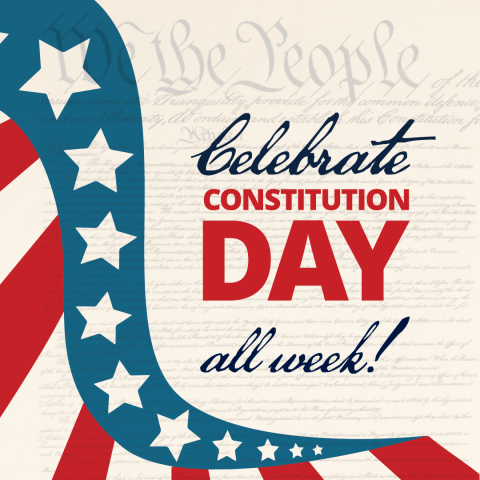 Celebrate Constitution Day ...All Week!
We invite all students, staff, faculty and community members to join us for a week-long celebration of Constitution Day!  Join us for sessions focused on voting, civic engagement and the most influential document in American history, our Constitution.
Why Do You Vote (or Not)?
Tuesday, September 14, 2021
11:00 a.m. - 12:00 p.m.
WEBEX LINK
What motivates you to vote, or not?  This town hall style discussion is in collaboration with the Morrison Institute at ASU and will be part of a larger report on voting trends among students. We want to hear from you - what encourages you to vote, what are impediments to voting, what motivates you?
Redistricting 101
Wednesday, September 15, 2021
11:00 a.m. - 12:00 p.m.
WEBEX LINK
Every ten years legislative and congressional district boundaries are adjusted based on data from the decennial Census. This important process determines what districts you will be in and, eventually, for whom you get to vote. Join retired Mesa Community College faculty member and current Arizona Independent Redistricting Commission member, Shereen Lerner, for an informative discussion.
The "Hows" of Voting
Thursday, September 16, 2021
11:00 a.m. - 12:00 p.m.
WEBEX LINK
What are different ways to cast your vote? Do you know what to expect when you arrive at a polling location?  Ever wonder how to request a ballot by mail? How do you research issues and candidates? Join us for this session focused on the mechanics of voting.  Panelists include Dr. Brian Dille and Avery Xola, Voter Education Specialist with Clean Elections.
Constitution Day
Friday, September 17, 2021
11:00 a.m. - 12:00 p.m.
WEBEX LINK
Maricopa County is the second largest voting jurisdiction in the country and has received national recognition for their outstanding work.  Join Maricopa County Recorder Stephen Richer as he shares information about elections, your right to vote, and our Constitution.
EVERYONE IS WELCOME! Visit events.maricopa.edu/constitution for all information and WebEx links.
To request accommodations for this program or event, please contact Disability Resources and Services at 480-517-8562 or disability.services@riosalado.edu. To ensure the provision of appropriate or reasonable accommodations, please submit your request 48-hours in advance of the program or event.
Share this article