Monday, February 14, 2022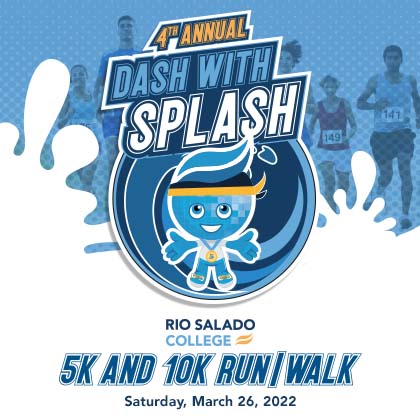 Register for Rio Salado College's Fourth Annual Dash with Splash 5/10K Event
"Rio's Dash with Splash 5/10K" run/walk will take place on Saturday, March 26, 2022. All ages and ability levels are welcome!
Proceeds will go to the Hazel Davis Literacy Legacy Scholarship. It was established by Rio's own Hazel Davis, who served as the college's faculty chair of library services for 23 years. The Hazel Davis Literacy Legacy Scholarship builds upon Davis' commitment to Rio and higher education by offering students scholarships and a chance to attain their goals. Students can receive this scholarship if they are enrolled at Rio Salado College, have a minimum GPA of 3.25, and demonstrate financial need.
The cost is $40 for the 5K race and $45 for the 10K. Both distances are chip timed with age awards. Registration site: DashWithSplash.com
All participants will earn a 4" tall, Splash Finisher Medal, Race bib and Tech Shirt (New 2022 design)!
Choose the 10K distance (6.2 miles) and earn the distinctive 10K pin!
Early packet pickup will be offered at Rio Salado Community College, the day before the race.
The race takes place at AZ Falls, located at 5802 E. Indian School Rd, Phoenix, AZ 85018. Overflow parking is also available at the Lutheran church, just North of the falls off 56th Street.
Check in for the races is from 6:30 – 7:30 am on Saturday, March 26, 2022. The 10K race starts early at 7:45 am, followed by the 5K at 8 am. It's best to arrive early for check in and parking.
Virtual Race option: Run or walk any time or place you choose, to earn your medal. Results reporting is optional but encouraged! (Race packets are mailed during race week.)
REGISTER TODAY AT DASHWITHSPLASH.COM. Registration closes Friday, March 25, 2022 10:00 PM (GMT-7)
Organized by: Run Your Race
Event Contact: Shawn@RunYourRaceAZ.com or (602) 722-6503
Share this article