Thursday, February 17, 2022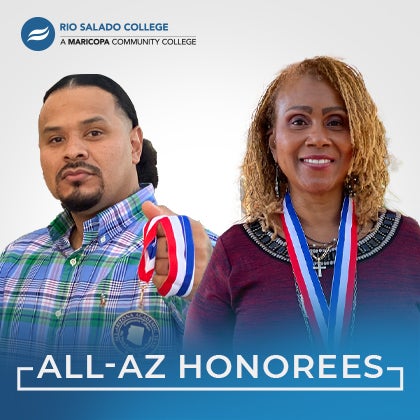 Honoring Rio Salado College's 2022 All-Arizona Academic Team Scholars Feb. 24
Rio Salado will join sister community colleges to honor students who exemplify academics and service and you're invited to tune in! Join us and cheer for Rio Salado's 2022 All-Arizona Academic Team scholars Cordero Holmes and Carolyn Shack and the other extraordinary honorees during a live recognition ceremony 1 to 2 p.m. Feb. 24, at mesacc.edu/live.
Cordero acknowledges he's come a long way from his first classes with Rio Salado while incarcerated. Today, he is a husband, father and full-time employee, as well as active in philanthropy work and Rio's Phi Theta Kappa (PTK) club. He will complete two degrees this year and plans to attend a state university to finish a bachelor's degree. He will be creating a nonprofit focused on transitional housing for women and men re-entering society from prison.
Carolyn is completing her final Rio Salado classes and will transfer to Northern Arizona University to complete her bachelor's degree online later this year. She aspires to continue her work in the healthcare field and serve in community-based behavioral health management. A first-generation college student, Carolyn hopes to inspire others, including her grandson, who recently moved in with her.
All-Arizona Academic Team members are celebrated for their outstanding academic achievements, community service and distinguished leadership each spring during a recognition ceremony coordinated by Mesa Community College on behalf of the Arizona Board of Regents and Phi Theta Kappa Honors Society. Learn more.
#AllAZScholars
Share this article