Thursday, February 10, 2022
Notice
This article appears for archival purposes. Any events, programs and/or initiatives mentioned may no longer be applicable.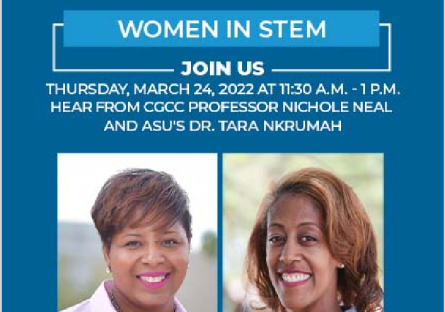 Join Rio Salado College as we celebrate Women's History Month with a webinar on "Women in STEM Careers." The STEM-focused (science, technology, engineering, and mathematics) event will be held on Thursday, March 24, 2022, from 11:30 a.m. – 1 p.m. The event will feature two keynote speakers: 
Nichole Neal (left) is a Physical Sciences and Engineering faculty member at Chandler-Gilbert Community College (CGCC). She is passionate about creating environments where every individual feels valued, specifically for underserved and marginalized populations in STEM. In 2020, Neal and student officers of the Society of Women Engineers (SWE) club held the first student-led faculty training at CGCC, "Dismantling Microaggressions in STEM," and went on to deliver the workshop at the Maricopa County Community College District and at a national engineering college.
Dr. Tara Nkrumah (right), is an assistant research professor in the Center for Gender Equity in Science and Technology (CGEST) at Arizona State University. Her research centers on equitable teaching practices and dialogues in education and STEM. She explores how socio-political communication flows through popular culture to frame the public perception about science education for underrepresented groups and their access to STEM careers. 
Register for the webinar in advance here. After registering, you will receive a confirmation email containing information about joining the meeting.
Rio Salado Women's History Month initiatives are sponsored by the President's Office committee for Diversity, Equity, Inclusion, and Belonging to help foster a culture that values and honors everyone's unique qualities with respect and dignity.
---
What are four challenges that women in STEM face?
While the number of women in science, technology, engineering and math (STEM) careers is making strides, men still make up 73% of the STEM workforce. The disparity can be attributed to four main factors: gender stereotypes, male-dominated cultures, a lack of role models, and math anxiety.  Rio Salado College has created a LibGuide that explores these challenges in detail and offers more resources on STEM and Women's History Month topics and events.