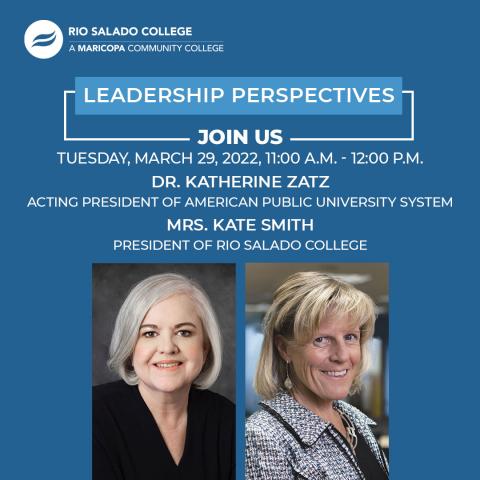 Join the Discussion: Leadership Perspectives DEIB Collaborative Forum March 29
You are cordially invited to join us for the next installation in our series of discussions on Diversity, Equity, Inclusion, and Belonging (DEIB). This collaborative forum between Rio Salado College and American Public University System (APUS) is part of an ongoing effort of both institutions to address and better understand social justice and economic mobility. Join us for a panel discussion of relevant topics featuring students, faculty, and subject-matter experts. 
Our upcoming event will focus on Women's History Month and will feature two female Presidents. Learn from Dr. Katherine Zatz, Acting President of APUS, and Mrs. Kate Smith, President of Rio Salado, as they share their perspectives and insights on leadership, higher education, and the importance of our shared DEIB values.
Online
Tuesday, March 29, 2022
11:00 a.m. - 12:00 p.m. 
RSVP: https://deibcollaborativeforumsept.splashthat.com/
Share this article