Monday, November 14, 2022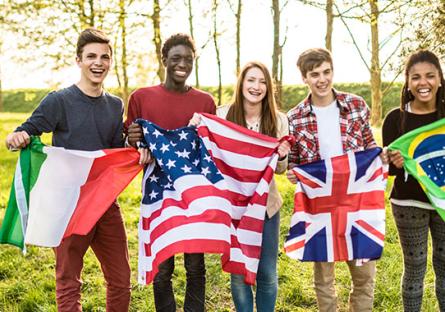 Mark Twain once wrote "travel is fatal to prejudice, bigotry, and narrow-mindedness, and many of our people need it sorely on these accounts. Broad, wholesome, charitable views of men and things cannot be acquired by vegetating in one little corner of the earth all one's lifetime." The value of a good education transcends nationalities, borders, and cultures. As a "college without walls," Rio Salado College is proud to provide a venue for students across the U.S. and abroad who are eager to expand their horizons and develop skills and knowledge that will help them thrive in the world. Join us this week as we celebrate the importance of cross-cultural exchange and learning with a series of International Education Week events and culinary delights.
While International Education Week itself is only 22 years old, the global classroom values it celebrates are older than the Library of Alexandria. Humans have traveled the world since antiquity to learn from each other and develop new technologies, artforms, and cooking techniques from one another. In recognition of the importance of continuing to foster that spirit of knowledge exchange, President Bill Clinton in 2000 issued an Executive Memorandum declaring his administration's commitment to "encouraging students from other countries to study in the United States." The Department of Education and the U.S Department of State launched International Education Week that year as a joint initiative to promote programs that prepare American citizens to work and compete in a global environment as well as to attract future leaders from abroad to study, learn, and share their experiences with us.
International Education at Rio
As a student in the Maricopa Community Colleges, you can apply to MCCCD's faculty-led Study Abroad programs. These programs offer you the chance to earn up to six academic credits while studying outside the U.S in countries that include:
Mexico

England

Scotland

Ireland

The Czech Republic

Italy

Japan
You can find more information on the Study Abroad page.
If you're an international student who's interested in enrolling in classes at Rio Salado, we welcome you. All you need to apply is a few documents. If you have questions, Rio's International Education Office can help. Call (480) 517-8416 or email at OIE@riosalado.edu.
"One's destination is never a place, but a new way of seeing things." -Henry Miller
IEW Events @ Rio Salado College:
Tuesday, Nov. 14
Rio Salado College
11–11:30 a.m.
Cooking Demonstration: Greek Spanakopita with Cafe at Rio | Kenneth Ballas, Executive Chef, Rio Salado College
Learn preparation techniques for Greek Phyllo dough "pie" stuffed with spinach and Feta. The recipe will be sent to interested attendees.
Virtual
Meeting ID: 770 2607 3553
Passcode: riocooks
11 a.m.–2 p.m.
Lunch at Rio
Enjoy international lunch offerings.
Rio Cafe.
1–2 p.m.
Co-Sponsorship: Play a Key Role in Welcoming Refugees and Asylum-Seeking Families in Phoenix | Amber Hartzler Larson, IRC Community Sponsorship Coordinator and Eliana Carrera, IRC Asylum-Seekers and Families Volunteer Specialist
Learn how cosponsors play a key role in helping refugees resettle into their new community and how community sponsorship advances the role of communities in the protection, resettlement, and integration of refugees and other vulnerable populations; In addition, you will learn about the IRC Welcome Center—a dynamic, 24/7 emergency shelter that gives resources to newly arrived asylum seekers and their children.
Virtual
ID: 24942024684
Password: inK9bbf7Gh9
‪(US) +1 602-666-0783‬ (toll)
Access code: 2494 202 4684
24942024684@maricopa.webex.com
2:30–3:30 p.m.
My Experience with Interpol: Protecting the World from International Crime | Former Special Agent Mike Catlett
Mike Catlett will discuss his international law enforcement experiences—including assignments to Interpol (International Criminal Police Organization). During his 40-year career in U.S. Federal Law Enforcement, his duties and investigations took him to 43 countries around the world.
Virtual
ID: 24864679667
Password: nmWYTPdp732
‪(US) +1 602-666-0783‬ (toll)
Access code: 2486 467 9667
24864679667@maricopa.webex.com
Wednesday, Nov. 16
9–10 a.m.
Cafe Around the World | Enjoy tasty treats from around the world.
Splash Pad (1st floor)
11 a.m.–2 p.m.
Lunch at Rio
Enjoy international lunch offerings
Rio Cafe
Noon–1 p.m.
IRC Speaker Series Part 3: Human Trafficking 101 | Alicia Winchel, Anti-Trafficking Victim Services Supervisor, IRC
The Anti-Trafficking program at the IRC assists foreign national victims of human trafficking by providing comprehensive case management in the areas of social, legal, psychological/psychiatric, and health/medical. Join us to learn more about our program, discuss cultural humility, and broaden your knowledge on human trafficking. Our team will share their experiences of working with victims on a daily basis, present some signs and risk factors to be aware of, as well as offer resources for those interested in learning more or making a report.  
Virtual
ID: 24802813166
Password: jFMQkFcA263
‪(US) +1 602-666-0783‬ (toll)
Access code: 2480 281 3166
24802813166@maricopa.webex.com
1–2 p.m.
International Experiences: Lessons learned from living in Namibia |  Dr. Lamont Slater, Faculty Chair of Humanities, RSC
Explore Namibia and follow Dr. Slater's personal experience as he reflects on customs, people, history, building bridges and global partnerships, and environmental issues.
Rio Tower, Room 515
Virtual
ID: 24909552669
Password: EtU3ywUmP84
‪(US) +1 602-666-0783‬ (toll)
Access code: 2490 955 2669
24909552669@maricopa.webex.com
Thursday, Nov. 17
11 a.m.–2 p.m.
Lunch at Rio
Enjoy international lunch offerings
Rio Cafe
Noon–1:30 p.m.
Documentary: Invisible Hands
This award-winning documentary exposes child labor and child trafficking within the supply chains of the world's biggest corporations. Nobel Peace Prize recipient, Kailash Satyarthi, is an Indian social reformer who campaigned against child labor in India and whose team has liberated more than 86,000 children from child labor, slavery, and trafficking.
Rio Conference Center
Virtual
ID: 24851257858
Password: GeMg5Akn4y3
‪(US) +1 602-666-0783‬ (toll)
Access code: 2485 125 7858
24851257858@maricopa.webex.com
3–3:45 p.m.
My American Experience as a Sudanese Immigrant | Salwa Ahmed,
Student Services Specialist, RSC
Join Salwa's journey as a Muslim immigrant from Sudan and learn how she embraced new opportunities in the USA while remaining deeply connected to her own culture.
Virtual
ID: 24877590114
Password: NVszjjBP623
‪(US) +1 602-666-0783‬ (toll)
Access code: 2487 759 0114
24877590114@maricopa.webex.com
Friday, Nov. 18
11 a.m.–2 p.m.
Lunch at Rio
Enjoy international lunch offerings
Rio Cafe
Looking for more IEW events? Our sister schools in the Maricopa Community Colleges District are also hosting events throughout this week. Check this page for more information.
Article by Austin Brietta