Vice President of Technology and Infrastructure
Vice President of Technology and Infrastructure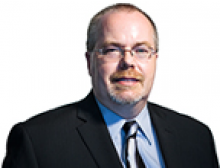 David O'Shea, M.Ed., was appointed to his role in August 2015 to lead networking, programming, project management, research and development and technology support. He has more than 25 years of information technology and business leadership experience in corporate and academic environments.
O'Shea holds a master's degree in educational leadership from Northern Arizona University, a bachelor's degree in business administration from the University of Nevada Reno and an associate degree in information technology from Chandler-Gilbert Community College.
Prior to joining Rio Salado, he served as senior systems administrator and business process analyst for KB Homes in Phoenix, Arizona, and as marketing manager for Phoenix Development and Investment in Reno, Nevada.
O'Shea serves as a member of the President's Advisory Council, the President's Cabinet, the college's United Way Giving Campaign chair and chairperson and scholarship reviewer for the We Are Rio Employee Giving Campaign, which raises funds for student scholarships.