College ID Cards
Your Rio Salado College ID card has benefits and uses for students and faculty using Rio Salado services.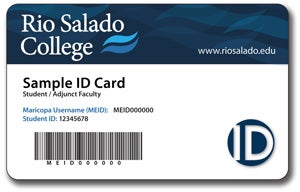 Your card contains your:
Your MEID
An MEID (Maricopa Enterprise ID) is an assigned username you use to access the online Student Center. Student MEIDs consist of three letters and seven numbers that are unrelated to your social security number.
New Students
A new student is one who is attending one of the Maricopa Community Colleges, including Rio Salado, for the first time. 
Continuing Students
If you are a continuing student (including a student from one Maricopa Community college to another), your MEID remains the same. You can find your existing MEID in your Student Center.
Establish or discover your MEID
Your MEID serves as your name in your Rio Salado email address. For example:
MEID@maricopa.edu = TOM1234567@maricopa.edu
Print Your ID Card
You can print an ID card by clicking Print ID Card at left. Then, log in to RioLearn and select Rio ID Card from the drop down menu that displays.
It's Your Key to Services
You can use your Student ID card to take advantage of many Rio Salado services. Log in to Student Resources (Student/faculty self-service) where you can:
Register for classes
Request official transcripts
View final grades
Check financial aid status
Make a payment or enroll in a payment plan
Update your personal information
Add, drop or withdraw from a class
Library Access
Use your card to tap into Rio Salado Library resources, including:
Check out and renew library materials at any of the 10 Maricopa Community Colleges Library
Access your Library Catalog account online
Perks
You can also use your student ID card to get student discounts at some area businesses and functions like theaters, athletic events, festivals and restaurants. Discounts and offerings may vary.