Vice President of Strategy and Advancement
Janelle Elias, M.A.Ed., specializes in strategic planning, incubating big ideas and scaling innovations across the college and country.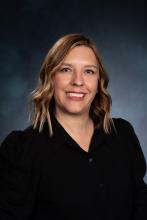 Previously, Elias served as dean of institutional effectiveness for the college, providing leadership over institutional research, compliance, grants, and accreditation. She also served as an appointed community college representative on the AZ SARA Council, which facilitates standards of reciprocity for distance learning programs across the country.  
Before joining Rio Salado and the Maricopa Community Colleges in 2016, Elias held roles of increasing responsibility at University of Phoenix Central Administration as assistant dean, accreditation and assessment director, and instructional designer. Elias led several HLC visits and reports and managed the curriculum lifecycle for information systems and technology programs across a system of 60+ campuses and 200+ locations.
Elias earned a B.A. in English from Georgia Southern University and an M.A.Ed. in adult education and distance learning from University of Phoenix. She has taught IT and business courses online since 2006.