Interim Vice President, Administrative Services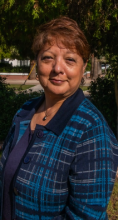 Maria Bellino is an engaged, positive and collaborative leader. With 30 years of employee services experience, Bellino strives to design and implement innovative and cost-effective employee services strategies and deliver a variety of services and programs that underscore Rio Salado's commitment to equity, inclusiveness, respect, fairness, employee well-being, effective service delivery and accountability.
Bellino first joined the Maricopa County Community College District (MCCCD) in 2013 to serve as a Workforce Resolution and Compliance Consultant and then became a Senior Human Resource Manager with Rio Salado College in 2016.  Before joining MCCCD, Bellino served Northern Arizona University and Department of Justice employee services teams.
Bellino holds a bachelor's degree in psychology, a master's in business administration, a master's in industrial-organizational psychology and is currently working on a doctorate in industrial-organizational psychology.