Tuesday, February 2, 2021
Notice
This article appears for archival purposes. Any events, programs and/or initiatives mentioned may no longer be applicable.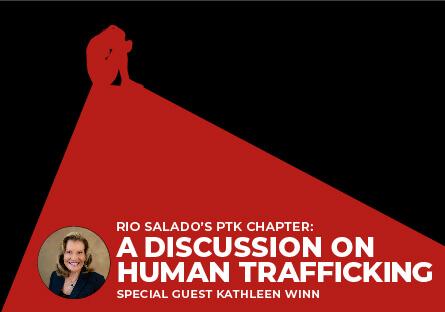 Rio Salado College's PTK Chapter puts focus on human trafficking issue
January was designated as National Human Trafficking Awareness Month. In recognition and awareness of this national epidemic, Rio Salado's PTK chapter held a student-led discussion on January 21, 2021, with college faculty, staff, students, and community members. 
The discussion began with Interim President Kate Smith recognizing PTK's involvement by beginning 2021 with taking an action on What evil would you wish to solve in this world? The highlight of the meeting was special guest Kathleen Winn, Maricopa County Community College District board member and Executive Director of Project 25.
Kathleen Winn held an active discussion particularly around the area of preventing inappropriate interactions in the early stages of human trafficking. Kathleen's knowledge and expertise in the prevention of human trafficking was extensive and insightful. 
Angela Kwan, Rio Salado Faculty Chair for Administration of Justice Studies/Paralegal and former police officer, shared that human trafficking is not a victimless crime: young girls and women are victims of pimps, predators, and greed. 
Dr. Greg Pereira, Rio Salado's vice president of student affairs, called to recognize "the power of one person" and encouraged webinar participants to try to make a difference regardless of occupation or degree of study. 
We wish to thank Kathleen Winn, PTK student leaders, and Rio Salado administration for this insightful event. To view the meeting recording: https://youtu.be/trbt9bMGuy8 
Here are additional resources if you would like to learn more and become involved in this worthy cause.
Volunteer with VAST - Valley Against Sex Trafficking (VAST) provides resources to local law enforcement throughout Arizona
Project25 World - Ending Sexual Exploitation by 2025
National Center on Sexual Exploitation (NCOSE) - The National Center on Sexual Exploitation (NCOSE) is the leading organization exposing the links between all forms of sexual abuse and exploitation
AZMEN was established to ensure that male voices and actions are in support of the women and children in our communities
National Human Trafficking Resource Center – resources and hot line