Notice
This article appears for archival purposes. Any events, programs and/or initiatives mentioned may no longer be applicable.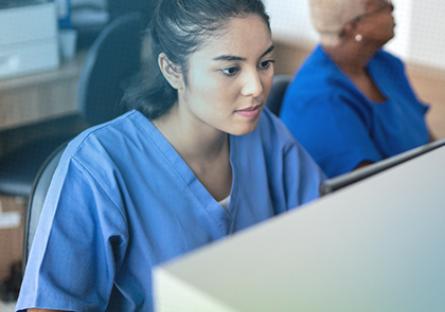 Rio Salado Now Offers Direct Pathway To Phoenix College's Medical Assisting Program
Rio Salado College is partnering with Phoenix College to offer our Adult Education students a direct pathway to enroll in Phoenix College's medical assisting micro-credential program. Beginning this week, Adult Education students who complete their GED at Rio Salado can enroll in Phoenix College's 18-unit Medical Administrative Assisting Certificate of Completion program. This program can give students the skills and knowledge they'll need to prepare them for front office work in the medical field. Take this pathway and one day you too can be the friendly face people see when they walk into the doctor's office
The new partnership provides underserved students a unique opportunity to co-enroll in non-credit adult education programming, such as English language courses or studies toward a high school equivalency diploma, and a college certificate program in a high-demand healthcare field. Rio Salado is the largest provider of adult education courses in Arizona and is a three-time winner of the Adult Education Program of the Year award from the Arizona Department of Education. Phoenix College was recently identified as one of the most affordable educational institutions in the country to earn a medical assistant certificate. In addition to the latest training in the field, medical assisting students from Phoenix College receive hands-on training through clinical externship
Students interested in getting started in this program should contact Rio Salado's Adult Education Department at 480.517.8110 or by email at gedinfo@riosalado.edu. For more details, visit www.riosalado.edu/adult-education.