Wednesday, October 27, 2021
Notice
This article appears for archival purposes. Any events, programs and/or initiatives mentioned may no longer be applicable.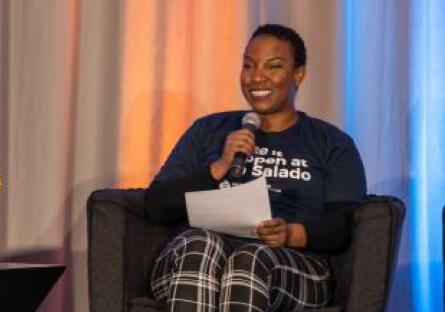 Student Entrepreneur Busts a Move at Education Conference
Proving that she does not have two left feet, Rio Salado College student Devotera Hill encouraged attendees at the National Association for Community College Entrepreneurship's (NACCE) recent annual conference in Minnesota to bust a move. 
And shimmy they did, all in the name of education. 
The conference unites community college educators and administrators to focus on igniting entrepreneurship on their campuses and in their communities.
Hill presented as part of the panel, "How Community College Entrepreneurship Creates Equity and Prosperity." 
"The overall experience was wonderful," Hill said. "I was asked to showcase my business, 2 Left Feet, share my story about being a mother, a performer, a dance instructor and a student, and requested to perform in front of over 400 guests. That's amazing!"
As a single mother of her son, Terence McGary Jr., Hill detailed how she created the idea for her business.
"One day my son stated he wanted to be an astronaut," Hill said. "I wanted to truly support his dreams, but I realized that in order to support my son's dreams, I had to follow my dreams."
Thus, the mobile dance studio 2 Left Feet was born.
"I have always had a passion for dance and instructing, and always wanted to help people express themselves freely through movement without any judgment," Hill said. 
She incorporated 2 Left Feet in 2019 as a way for people to build confidence, heal anxiety and depression, and overcome their fears.
Growing up in the projects of Chicago, Hill learned how to dance from family members, but had no access to dance classes or formal training.
"I would go to Boys and Girls Clubs and other locations to compete and win, but without formal dance training, I had to advance on my own," Hill said.
When Hill's family moved to Arizona, she was introduced to dance classes her senior year in high school, winning a best dancer award.
"I didn't even know such a thing existed," Hill said. "When you lack resources, or the ability to dream big, you don't know what is possible."
As a child, Hill took note of a candy store that was owned by her grandparents.
"I always loved the idea of opening a business," Hill said. "But everyone I knew worked for someone else. No one loved what they did. It was just a job and I thought that was normal."
It took Hill more than 10 years, but in 2020, she proudly earned two associate degrees and a certificate in dance performance and technology from Scottsdale Community College. 
However, she knew she would need to do more to provide for her son. She enrolled in the Risk Management and Insurance certificate program at Rio Salado College.
With the help of Dr. Lily Davidov, Faculty Chair for Accounting, Small Business, and Insurance Studies at Rio Salado, Hill received scholarship funding through NACCE and its partnership with the Everyday Entrepreneurship Venture Fund. Hill's scholarship was matched by our friends and generous donors at K16 Solutions.
"Working with student entrepreneurs is one of my passions, especially understanding how I can help students with unique talents and circumstances to realise their full potential," Davidov said. "Working with Devotera has been an amazing journey. She is focused on growing her business and finishing her certificate. She took every opportunity that was available and made even more out of it."
For Hill, attending Rio Salado College has helped put her on the road to a successful career as an entrepreneur.
"I feel that my education adds to my professional experience, and now I have more to offer my customers," Hill said. "With the right instructors and support, anything is possible. Rio Salado really cares about education and what happens after you graduate!"
Note:  NACCE scholarships are available for Fall 2021 and Spring 2022! If you are a Rio Salado student entrepreneur with a promising start-up, please contact Lily.davidov@riosalado.edu.
By Mira Radovich, Senior Contributing Writer