Notice
This article appears for archival purposes. Any events, programs and/or initiatives mentioned may no longer be applicable.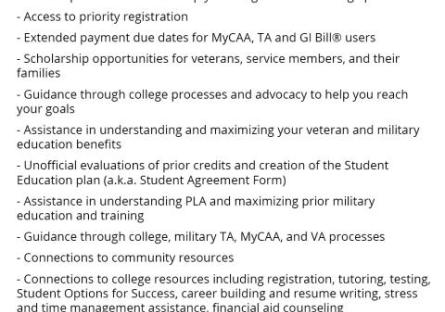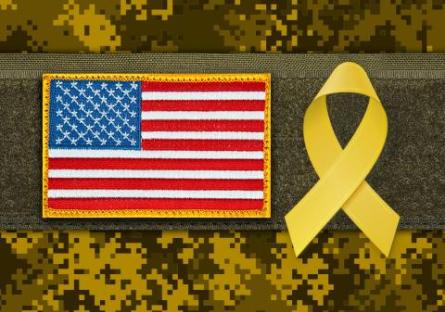 Veterans, Military Services Walk Educational Path with Rio Salado College Students
This month, the country will pause and honor our veterans during a national day of recognition. "Thank you" is never enough for the men and women who devote their lives and time to the service of the country.
Through a dedicated Military and Veterans Services department at Rio Salado College, this branch of society is granted special attention to meet their educational needs - either while in service or following their military commitment.
"Rio Salado College's Office of Military and Veteran Advisement offers a network of services and resources to guide veterans, service members, and their family members through the educational process and onto a successful career path," said Chantele Carr, Student Services Supervisor for Military Advisement.
Rio Salado students who are veterans typically are in midlife, but there are some in their 20s and 30s who recently discharged and want to use their benefits. 
Rio Salado's team also works with a smaller population of high school graduates using dependent benefits. 
According to Ramsey Itani, Student Services Manager for Veterans Services, about 1,800 Rio Salado students annually are a veteran, dependent, or are on active duty. 
"The staff is here to help students with the myriad of paperwork and compliance issues that need to be addressed," Itani said. "We make sure they have their ducks in a row. We submit  their enrollment to VA for payment and the VA processes benefits."
About half of the students seek degrees to change or advance their careers, while others enroll in classes to complement their education at another institution, Itani said. 
Popular programs include Associate in Arts, Associate in Applied Science in Administration of Justice, Associate in Business, and - for current servicemen and women - Associate in Applied Science in Organizational Management (that program is not currently approved for VA education benefits).
The support military and veterans receive from Rio Salado goes beyond education. 
"I wish people knew that there are multiple support systems while families and their service members are in-service, transitioning out, and/or after retirement," Carr said. "The Rio Salado team can point students in the right direction for housing information, assistance with food insecurity, seeking other financial options and in-demand employment opportunities."
The Veterans Services department staff has more than 35 years of experience working with students and VA education benefits. The Military Services Advisement team has more than 30 years of combined experience.
Sabrina Nicholson, a U.S. Air Force veteran, leaned on Rio Salado College's Military and Veterans Services Department to assist with planning her goals and to utilize her veterans benefits when she began Rio Salado's Educator Preparation Program last year. The department is available to guide current and veteran servicemen and women with education, community resources, and more. Nicholson hopes to finish her credentials in the spring.
 
"The VA support services at Rio Salado are fantastic, as well. Anytime I need help or have a question, I get a response within that day letting me know they are looking into the issue, and typically get an answer by the end of the day," she said.
Backed by Rio Salado's flexible start dates and online modality, the department creates a mighty opportunity for those who want to earn their education.
"I think we have one of the broadest course offerings online of any community college that can offer classes outside of Arizona," Itani said. "We can help those students who are the nontraditional students who got recently discharged or have a change of employment and need to go back to school or need to fit in credentials while working full time."
*GI Bill® is a registered trademark of the U.S. Department of Veterans Affairs (VA). More information about education benefits offered by VA is available at the official U.S. government Web site.
Contact Veterans Services at va@riosalado.edu or (480) 517-8153. Contact Military Advisement at military.advisor@riosalado.edu or call (480) 517-8590.
Are you ready to enroll? Information can be found on this Get Admitted page. Be sure to identify yourself as military or veterans and note that you plan to use educational benefits if it applies. Note: Eligible Service members must receive approval from an Educational Services Officer (ESO) or counselor within the Military Service prior to enrolling.
Are you considered an out-of-state student? Apply for additional VA funding through the Yellow Ribbon Program! 
What is the Yellow Ribbon Program?
The Yellow Ribbon Program is a part of the Post-9/11 Veterans Educational Assistance Act of 2008. This program allows U.S. institutions of higher learning to voluntarily enter into an agreement with the Department of Veterans Affairs (VA). Degree-granting institutions partner with VA to cover tuition and fee expenses that exceed the in-state rate. Schools can contribute a specified dollar amount. VA will match the amount, not to exceed 50 percent of the difference. Learn more.