Notice
This article appears for archival purposes. Any events, programs and/or initiatives mentioned may no longer be applicable.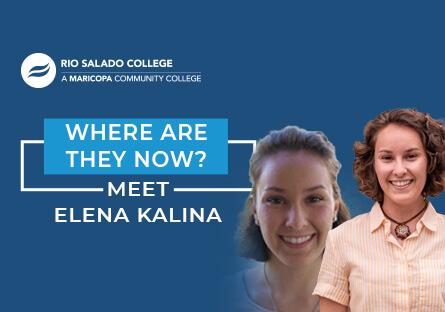 Where are they now alumni profile – Elena Kalina
In 2017, Elena Kalina celebrated a double milestone. She graduated from Desert Vista High School and thanks to dual enrollment classes, also earned enough credits to complete an associate degree with Rio Salado College.
"My Rio degree helped prepare me by allowing me the chance to grow up faster," Kalina said. "I was only 16 when I started at Rio, and only 18 when I graduated, but this experience led me to love higher education."
Through dual enrollment, high school students can earn both high school and college credits for certain courses. 
Rio Salado College partners with 41 local high schools to offer dual enrollment credits, saving students time and money in their pursuit of college degrees.
Kalina said she found online classes to be challenging and motivating.
"Learning at home is challenging because it can be difficult to focus," Kalina said. "However, I was motivated to complete my degree in two years while simultaneously finishing my high school degree."
For students who are considering dual enrollment, Kalina offers the following advice.
"I recommend studying courses that interest you, taking breaks when needed, and maintaining a well-balanced schedule of school time, social life, self-care, and self-interests," Kalina said.
Her favorite Rio Salado class? 
"I enjoyed the Gender and Society class because it helped shape my perspective of women's rights," Kalina said. "I now have more concern and value for how women are treated and have been treated throughout history. This class helped me be more conscious of gender differences in experiences men and women go through every day."
After graduating from Rio Salado, Kalina transferred to Arizona State University where she earned a bachelor's degree (with honors) in psychology in December 2019. 
Next up is graduate school, where Kalina will pursue a doctorate degree in either clinical psychology or neuroscience.
"I want to foster my passion for human behavior science and specialize in substance addiction research," Kalina said. "I aspire to become a professor and post-doc research associate in an addiction research lab to discover why and how people become addicted to different substances."
Kalina said attending Rio Salado helped her decide on a career pathway.
"I feel Rio is the perfect stepping-stone to finding what you want to do in life," Kalina said. "Achieving your dreams doesn't happen overnight, but Rio is a safe place to stay while you figure out how to achieve them."
Find more information about the degree programs offered at Rio Salado College.