Thursday, November 18, 2021
Notice
This article appears for archival purposes. Any events, programs and/or initiatives mentioned may no longer be applicable.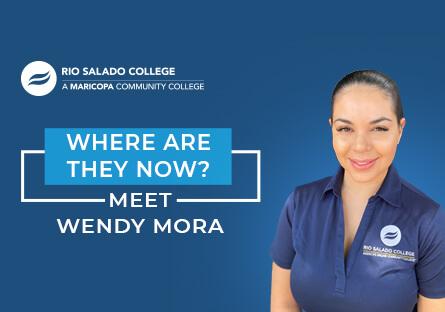 Where Are They Now Alumni Profile - Meet Wendy Mora
GED® Test Prep Program Leads Student to Entrepreneur Career
Wendy Mora took advantage of the GED® test preparation program at Rio Salado College Northern to create a foundation for her career as a business owner. 
"I've been in the United States since I was 6 months old," Mora said. "I'm also a dreamer who has accomplished so many goals in life, despite the obstacles I have faced."
To help her get ahead in her career, Mora enrolled in night classes at Rio Salado in 2015 to earn her high school equivalency diploma.
"I chose that program because I was able to work during the day and attend classes in the evenings," Mora said. "My experience at Rio Salado was extremely helpful, flexible, and also enjoyable."
Part of the enjoyment was meeting supportive instructors and other similar minded adult students, she said.
"My favorite part as a student at Rio Salado was that my instructors facilitated my learning," Mora said. "I was also able to connect with other adult learners in an environment that was exactly what I needed at the time because I had not attended school in over 14 years."
Mora was also mentored by Rio Salado College counseling adjunct faculty Amberly Lebeck Brown.
"Wendy has met every challenge head-on without complaint or discouragement," said Lebeck Brown. "I don't think anyone realizes how hard she has worked to get her GED and develop her passion because she just does it without fanfare."
Mora specifically noted the support and guidance she received from Rio Salado's caring staff during her time at the college.
"Rio Salado provided me with great mentors, like my counselor and my tutors," Mora said. "Amberly always encouraged me to take a bigger step forward and I will forever be grateful for all they have helped me with."
Mora, who is originally from Chihuahua, Mexico, earned her high school equivalency diploma in 2019. Today she is a business owner, a licensed aesthetician, and an Arizona licensed aesthetic instructor who just launched a skincare line. She credits the educational foundation she received at Rio Salado for contributing to her career success.
"I would highly recommend Rio Salado to anyone who is looking to a brighter future," Mora said. "The resources, flexibility and mentorship were beyond helpful."
Mora's future education goals are to keep learning and share her knowledge and story with other people.
"Rio Salado provided me with the necessary tools and guidance to keep moving forward," Mora said. "I learned that no matter how many doors close, there will always be one that opens for you." 
Visit riosalado.edu to see the certificate and degree programs and adult education options offered at Rio Salado College.
By Mira Radovich, Senior Contributing Writer