Notice
This article appears for archival purposes. Any events, programs and/or initiatives mentioned may no longer be applicable.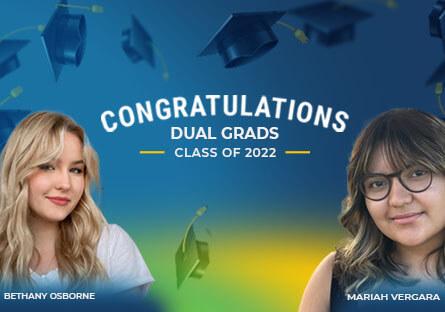 2022 Another Record Year for Rio Dual Graduates
Rio Salado College's dual enrollment program is celebrating another record year of graduates. This year, 290 area high school seniors are graduating with associate degrees before receiving their high school diplomas. 
Many will take part in Rio Salado's commencement ceremony on Wednesday, May 4, 2022, at 7 p.m. at the Arizona Federal Theatre.
Dual enrollment students take college-level courses at their high schools and receive college credits, allowing them to get a head start on their college careers.
In addition to being dual enrollment graduates, two students from the Class of 2022 are also recipients of Rio Salado's High School ACE (Achieving a College Education) scholarships: Bethany Osborne and Mariah Vergara.
Meet Bethany Osborne
Bethany Osborne is a senior at Heritage Academy in Mesa. She is earning an associate in arts degree from Rio Salado and plans to travel and paint this summer before pursuing a bachelor's degree this fall.
Osborne said dual enrollment allowed her to realize her goal of earning an associate degree while in high school.
"Graduating with a college degree before my high school diploma means that I've reached my goal and had the opportunity to participate in an experience that has helped me get further ahead," Osborne said. "It proves to me that I have the ability to work hard and accomplish difficult things."
She said dual enrollment taught her how to be a successful student.
"It challenged me and helped me gain skills like perseverance and patience," Osborne said. "It allowed me to use my time wisely by gaining credit for both high school and college at the same time."
With all her academic and extracurricular commitments, Osborne has become a pro at time management. In addition to her classes this year, Osborne participated in dance, art, tennis, Pilates, and her school's spring musical presentation of Little Women.
Osborne is grateful for the advantages that dual enrollment and the ACE scholarship have had on her educational success.
"Participating in the ACE program has given me the opportunity to take interesting courses and to have a broader education," Osborne said. "In the long run, I am confident that this head start in life will prove to be beneficial and allow me to have a better future."
That future includes meeting several goals.
"My goals for the future include going to university, getting my bachelor's degree in criminal justice, and becoming a forensic psychologist," Osborne said.
Meet Mariah Vergara
May is a busy month for Mariah Vergara. She is earning an associate in arts degree and an associate in general studies degree from Rio Salado College, and her high school diploma from Desert Vista High School in Phoenix.
Vergara said taking part in dual enrollment helped her reach her academic goals.
"My whole life I have always been striving to get ahead," Vergara said. "As soon as I was presented this opportunity, I filled out the application immediately. I am grateful to Rio Salado for allowing me to succeed and helping me further my education."
Her favorite part of dual enrollment classes were the teachers.
"They helped push me to the best I can be and further my knowledge on certain subjects," Vergara said. "Each was extremely helpful and flexible with the course assignments. They reassured me on any questions I may have had and always responded swiftly."
She recommends that future high school students take advantage of dual enrollment.
"It can seem daunting to take college-level courses, but at the end it will feel so rewarding," Vergara said. "By taking these courses you are investing in your future and will be more successful because of it."
During her time in high school, Vergara was a member of the National Honors Society, National Science Honors Society and the Chinese National Honors Society. She also engaged in many activities including peer tutoring, coaching softball, and was a member of the Future Business Leaders of America and Desert Vista Thunder Theatre Company.
Vergara plans to attend the Barrett Honors College at Arizona State University this fall and study business management.
"I have always wanted to work as a manager or CEO of a large corporation and am willing to put in the work to make those dreams a reality," Vergara said. "Along the way, I hope to give back to my community by donating to a local theatre program and teaching young girls softball."