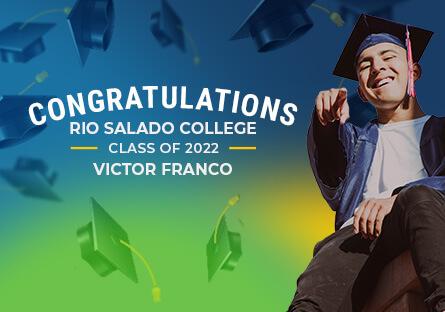 2022 Dual Graduate Victor Franco Earns 3 Degrees
Hats are something that people often associate with graduations. The iconic cap and gown, the tassels, the sharp slant of the mortarboard hat—it's all part of the noble pageantry of success when students receive the degrees they worked so hard to achieve. At this year's commencement, one Rio student put on that hat to celebrate completing an academic hat trick: 2022 dual graduate Victor Franco earned THREE degrees.
Franco graduated from both Rio Salado College and Heritage Academy this year, earning enough credits to further his ambitions to learn industrial design. "I want to be able to be the next known designer of industrial buildings seen around the world," Franco said. "I want to have a high income job so that I can give back to the people who first gave to me in my life: my mother and father, my church, my little brother and sister, and to God."
Franco started at Rio Salado in the fall of 2020. The convenience of finishing college and high school at the same time appealed to him. "If I could take the classes I have now and receive college credit for them then why wouldn't I do dual," Franco said. "It was super easy to do online classes along with my dual enrollment ones. The only time management advice I can give is do not procrastinate!"
Franco singled out Dr. Travis Moore's Personal Finance class as a particular highlight of his time at Rio Salado. "Dr. Moore taught me more than just money," Franco said. "He taught me self discipline and professionalism, as well as wittiness." He also looked back fondly on Melanie Hale's ENG 110 - ENG 111 courses. "She's a phenomenal teacher and I couldn't be here today without her influence on my life."
Juggling so many classes was a challenge that Franco met with determination and grace.
 "I just had to put my eyes on the prize and grind it out," Franco said, reflecting on the intense schedule he had to keep to stay on top of his studies. "While kids in my same class were busy with free hours and half school days, I was stuck in classes with little to no free time. The sacrifice and dedication to dual was worth it in the end."
Franco's diligent efforts led to him earning three associate degrees in Arts, Science, and General Studies. His educational hat trick wasn't just an impressive accomplishment; it represented a milestone for his family. 
"I'm the first male to graduate from college in our entire family," Franco said. "Breaking generational curses in my family is what I'm most proud of."
He plans on attending ASU in the fall of 2022 where he'll work toward achieving a bachelor's degree in industrial design. "I want to be able to influence this generation as well as the next one to come," Franco said. "Influence and imparting character are big things to me. I want to be able to leave my mark in the world today."
For a man who dreams of designing grand buildings Franco has already laid down an impressive foundation for his future. "Don't let nobody put limits on your education," Franco said. There's no ceiling over the heads of students like Victor Franco—there's nowhere to go but up.