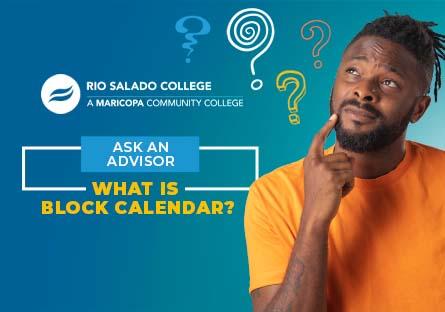 As a student at Rio Salado College, you have the option to enroll in a class nearly every Monday. This provides flexibility to create a schedule that fits around your life. Since classes do not fall under typical "semesters" like other colleges, Rio created the Block Calendar.
Block Calendar is an enrollment system to help students manage and plan their class start dates. Rio Salado College offers many start dates throughout the year. The Block Calendar system organizes these start dates into blocks. Blocks are like traditional semesters at other colleges; but where other colleges have just one start date each semester, Rio has 16 blocks available for the Fall and Spring semesters and eight blocks available for the Summer semester. Think of a block as your personal semester. You are selecting a time frame for your classes that works best for you.
The Block Calendar applies to students seeking a degree or certificate with Rio Salado. If that's you, then you must comply with the Block Calendar when planning your classes. If you are a student who is non-degree seeking (taking a class at Rio to fill a gap at another school or for personal development), or if you are a dual enrollment, non-credit or on-site incarcerated student, then it does not apply to you.
There are a few rules to keep in mind. First, all your classes, whether full length or accelerated, must start and end within the time frame of your block. Next, you cannot start a new block until the current block ends. There is a convenient planning tool on our Block Calendar web page that lists the available blocks and all start date options within each block.
Here are a few simple steps to plan for classes with Block Calendar in mind:
First, meet with your advisor to select the best classes for your program of study.

Refer to the Block Calendar Planning Tool listed above to find a block that works best for you.

If you are currently enrolled in classes, check your block dates. You can find your block by clicking on the RioCompass link located in your RioLearn account.

Refer to the Block Calendar Planning Tool to find a new block that starts after your current block ends. Remember the rules: no overlapping of blocks.

If you are not quite sure, go back to step No. 1 and ask your advisor.
Read more about Block Calendar online. You can find the planning tool, a video, and frequently asked questions.
Lynn Barth is an advisor for our Military Advisement Team at Rio Salado College. She can be reached at lynn.barth@riosalado.edu.