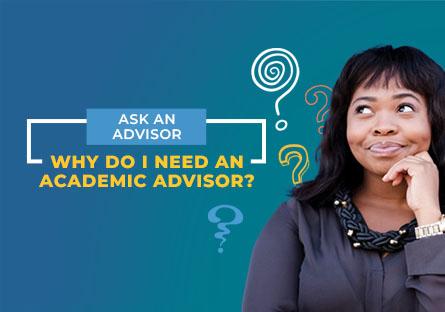 An academic advisor is key to your academic success. Think of an academic advisor as your very own Google Map App – a specialist who provides guidance and direction and pulls you back on course as you journey toward your destination – graduation!
You may think you have this college thing figured out and you know the way. But sometimes, despite our best intentions, we still get lost. And getting lost costs time and money whether we are driving across town, the country, or journeying to graduation.
Hindsight is 20/20. Looking back on my first attempt at college, I can see clearly now that I was flying by the seat of my pants with no clue where I was going or what I was doing! If someone asked what my major was, I would say, "I don't really know right now, but I'll figure it out." Driving without a road map ended up costing me a lot of time and money – and I eventually left school.
Years later I returned to school. This time I understood the importance of connecting with an academic advisor early on, often, and all the way to graduation. I wanted to do things right and not waste time or money taking courses that would not apply to my degree.
The first thing I did was schedule an appointment with my advisor to introduce myself and share my story. Much to my relief, I discovered my story was not unique! I was not alone, and neither are you! We all have a story of how we got where we are today. Your story matters! It will help you stay the course when the going gets rough – and your story will motivate and inspire others.
Next, thanks to my advisor, I connected with Counseling and Career Services. This is where I discovered "Who am I?" by taking an inventory of my likes, dislikes, and talents. It is so important to be on an educational path that is in alignment with your likes and your strengths. It has been said if you do what you love you will never work a day in your life. So, make college count. Study and learn about what you love so you can pass that on to others and make our world a better place.
Next, armed and excited with this newfound knowledge about yourself, your advisor will help you choose an academic program (if you have not already done so.) There are so many programs to choose from, including certificates, associate degrees, and degrees with an emphasis on transferring to a university. Your advisor will help you develop a semester-by-semester educational plan and determine the credits you need to graduate. They will help you keep your eye on the ball, encouraging you to complete a course, finish a semester, or graduate from college.
If I could give advice to my "younger me" regarding college, I would tell her to grab a hold of an academic advisor and do not let go! It is like my Google Map App – I am lost without it.
Sometimes the smallest step in the right direction ends up being the biggest step of your life. Tip toe if you must but take the step. - author unknown
To find your advisor, log into RioLearn and look at the right-hand column. There you can view your advisor's email, phone number, and an appointment schedule. If you have not been assigned an advisor, call (480) 517-8580 or email academic.advisement@riosalado.edu.
Karen Mauvais is a Student Services Specialist at Rio Salado College and can be reached at karen.mauvais@riosalado.edu.