Thursday, August 18, 2022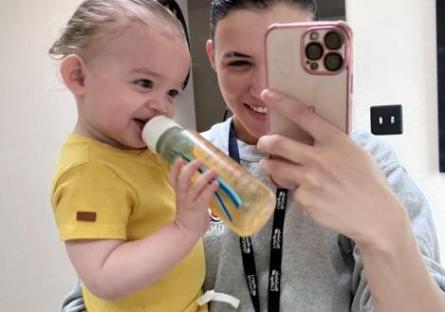 Driven with a desire to be a voice for others, Rio Salado's Student Senator Aiyana Churcher looks to bring together her goals and new role to serve her fellow Rio Waves.
The knowledge she hopes to gain will serve her well as she focuses on a future career as an attorney. She believes in big dreams - including her own. 
"I plan to be a criminal defense attorney and work my way up the political ladder from there," she said. "Yale Law School is within the top three for best academics in the country. This is the school I am striving toward attending in the upcoming few years."
Churcher completed high school in 2020 amid the start of the pandemic. After trying one path, then another, she took a gap year to build better direction for her life. She started at another Maricopa Community College campus, but with a need to financially support herself and her young son, turned to Rio Salado this past spring.
The flexibility - and variety of classes - meets her educational needs and allows her to fulfill her other responsibilities, including full-time work in the restaurant field and assisting her mom with her personal business. The college also offers a program that provides a path toward her aspiration; she's currently working toward a paralegal degree.
"I can tell when I'm really passionate about something," she said. "I want to learn more."
Churcher credits time management ("in all capitals and underlined twice") as key to staying on top of her school work. She sets a timer to keep her on task, lives by her calendar and uses multiple notebooks to track what needs to be completed, be it housework, homework, personal time and gym time.
"It's something I found I didn't have," she said. "I had to master it with my son. If I put too much energy at one time into one task, I'll lose time on the other tasks. … I put a timer on my phone: 10 minutes for this, 10 minutes for that."
Wednesdays are rest days.
"Those are very important," she said.
Her son is "100 percent" part of her support system while she moves through her educational journey. 
"He can feel all my emotions. When I'm sad, he'll lay on me and love on me. When I have a bad day, we'll run around for a few moments. I'll go cuddle with my son for a few hours," she said.
While taking on the role of student senator adds to her already busy schedule, she also knows it will add to the richness of her educational experience. As Rio's representative on the Maricopa County Community College District's Student Senate, she will provide a student voice and perspective to the Governing Board, Chancellor, college leadership and community. She will also serve on Rio Salado's Presidential Advisory Committee, under the direction of Dr. Kate Smith.
"I want to have an amazing resume. I want to have lots of different experiences at Rio," she said. "I was searching at the time for something I could learn from, be challenged from and add to my experiences. It also helps me with my career path, and helps me understand things I'm going to be learning. I was drawn to it."
It also provides a platform for encouraging other students, she said.
"The 'what ifs' inspire me for sure," she said. "Things could be so bad. If you can find the silver lining, it can be better. That's where I get my energy from."