Friday, September 9, 2022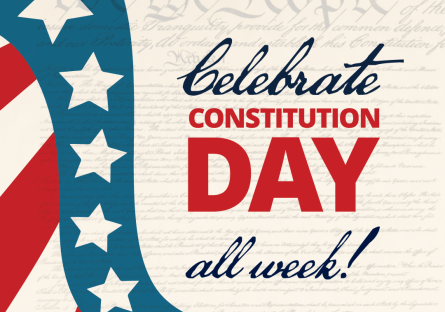 The bedrock of the United States is our Constitution, so we're inviting you to a week-long celebration of Constitution Day! Constitution Day commemorates the signing of the U.S. Constitution on September 17, 1787. It was on this historic date that the delegates of the Constitutional Convention met for the last time and ratified the foundational document of our country. September 17 is also the date we celebrate Citizenship Day, the holiday that Congress created in 1940. Originally referred to as "I Am an American Day," Citizenship Day (as it was renamed by President Truman in 1952) is a day to encourage people to reflect on the rights and responsibilities of citizenship and what it means to be a citizen of the United States.
Celebrate Constitution & Citizenship Day all week by exploring the Rio Salado Library's Constitution & Citizenship Day 2022 Guide and by attending a week-long series of Maricopa Community Colleges District virtual events focused on voting, civic engagement, and the most influential document in American history, our Constitution. 
Monday, September 12, 2022 | 11 a.m. - Noon
Proposition Overview (What Yes and No Really Mean)
Ballot propositions allow for a direct vote of the people on a variety of critical issues for Arizona. The language, however, can be confusing. Join award-winning pollster, Paul Bentz, for an overview of the propositions you will see on this year's ballot. Learn more about what your yes and no vote really mean.
Tuesday, September 13, 2022  |  11 a.m. - Noon
Wanted: More Than Your Vote
Your vote is your voice and Maricopa Community Colleges encourages all students, faculty, staff, and community to exercise their right to vote. Voting, however, is just one of many ways to be engaged in your community. Join a panel of civic leaders, staff, students, and alumni as they share the many ways we can all make a positive difference in our community through civic engagement.
Wednesday, September 14, 2022  |  11 a.m. - Noon
Maricopa & Government Relations
How does Maricopa interact with our local governments? What is on our agenda when we visit with state legislators? What are Maricopa's priorities for the coming year? Join Maricopa Community Colleges Government Relations Director, Alexis Susdorf, for an update on Maricopa's government relations.
Thursday, September 15, 2022  |  11 a.m. - Noon
What's On Your Ballot?
What will you see on your ballot? Why are you asked to vote on judges?  How do you research issues and candidates? Join Avery Xola, Voter Education Specialist with Clean Elections, for this session that will provide you with a sneak preview of what you will see on your ballot.
Friday, September 16, 2022  |  11 a.m. - Noon
Constitution Day
Maricopa County is the second largest voting jurisdiction in the country and has received national recognition for its outstanding work. Join Maricopa County Recorder Stephen Richer as he shares information about elections, your right to vote, and our Constitution.