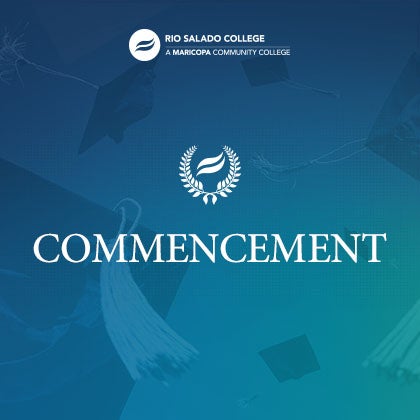 Celebrate Rio Salado Commencement In-Person Tonight!
After two years of virtual ceremonies, Rio Salado College is proudly welcoming our 2022 graduating students to celebrate their achievements in-person.
The college's 2022 commencement ceremony takes place at 7 p.m. on Wednesday, May 4, at the Arizona Federal Theatre in downtown Phoenix.
The ceremony will feature a welcome address by Rio Salado College President Kate Smith. 
"Commencement represents the culmination of one journey and the beginning of a promising next chapter for Rio Salado graduates," Smith said.  "We look forward to celebrating their hard work, academic achievements and inclusion into our family of nearly 99,000 alumni."
The ceremony will also feature guest speakers Dr. Steven R. Gonzales, Maricopa County Community College District (MCCCD) Interim Chancellor, and Dr. Linda Thor, MCCCD Governing Board Member and Rio Salado College President Emertius.
Cordero Holmes is the ceremony's student speaker, and Carolyn Schack is the student marshal. Both students were named 2022 All-Arizona Academic team scholars for demonstrating outstanding academic achievements, community service and distinguished leadership. Read more about Cordero and Carolyn.
Class of 2022 Overview:
3,548 graduates
290 dual enrollment high school students earning associate degrees
3,742 degrees, certificates and recognitions of academic achievement earned
174 Phi Theta Kappa honor society graduates
For more information about the Commencement ceremony visit www.riosalado.edu/commencement.
Share this article