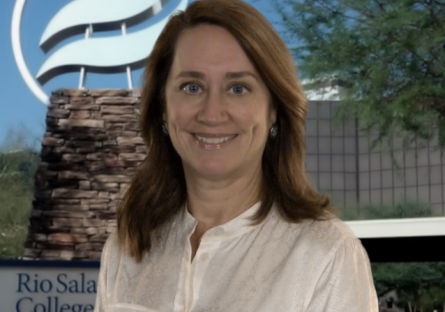 Rio Salado College's Faculty Chair of Dental Programs Monica Nenad made a splash this year in the pages of the Journal of Dental Hygiene. The April issue included her paper about her research into the "Effects of a Radiography Checklist on Reducing Retake Exposures." It's another feather in the cap of a long career of distinguished research and work for Rio's Faculty Chair.
Although Nenad got her start in her current role as the hygiene program's director back in August 2021, she's had a storied career working in the field. She was nominated by the Arizona State Board of Dental Examiners to serve on the Dental Hygiene Examination Review Committee of the Central Regional Dental Testing Service (CRDTS) and was appointed to that position. This gave her an up close and personal look at the dental hygiene clinical licensing examination process in its entirety and empowered her to make recommendations on how to update and improve the quality of the exam.
That knowledge came in hand when she was invited to speak at the Educator's Session of the American Dental Hygienists' Association Annual Session in June 2022 in Louisville KY. The title of her Session presentation was Making Grading More Meaningful.
"I saw that we were still using the same form for grading our hygiene students that we've  used since I started with the program back in 1998," Nenad said. "Based on what I knew about pass/fail grading and to encourage the students to consider the clinic a learning experience and not just a grading one, I wanted to reduce the emphasis on grades. Pail/fail allows you to do that because it's based on competency."
Nenad was also selected by the American Dental Hygienists' Association to serve as its Commissioner representative to the American Dental Association Commission on Dental Accreditation. There are 33 Commissioners who oversee and determine the accreditation status of all dental and allied dental schools in the U.S. Her term as a representative begins in fall 2022 with a training year and then Nenad will serve for four years in the role. 
She is slated to present research in Dublin, Ireland, this month at the International Federation of Dental Hygienists' Symposium titled The Community Dental Healthcare Worker: Who They Are and What They Do. This research was nominated for an award in the New Research category. She is also making an oral presentation at this symposium on a research project titled Assessing LGBTQ Knowledge and Attitudes Among Health Care Student Clinicians: A Pilot Study.
"The most recent research just highlighted how under-trained healthcare professionals are in addressing LGBTQ issues and how sadly mistreated a lot of those individuals in those communities are," Nenad said. "The goal with the training is to get people within the communities in need," Nenad. "So if you can find someone who's a dental assistant in a particular community and train them to be an advocate and liaison for those communities, you've a great situation because it's someone they can listen to that's like them."
Her paper in the Journal of Dental Hygiene isn't her only recent publication. She's got more research slated to be published in a professional journal in the near future: research regarding HyFlex Instruction that Nenad conducted as part of an MCLI sponsored Fellowship program from 2021-2022. Nenad submitted her results as a presentation at the next American Dental Education Association Annual Session in March 2023.
Rio Salado College's dental programs prepare graduates by providing the skills they need to thrive in the fields of Dental Hygiene and Community Dental Health Coordination.
Article by Austin Brietta