Wednesday, August 3, 2022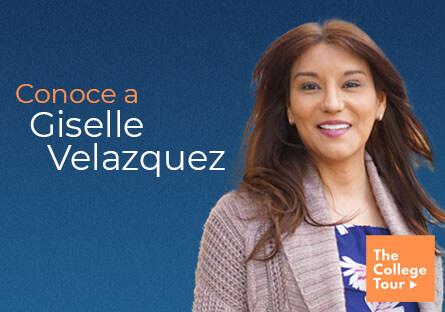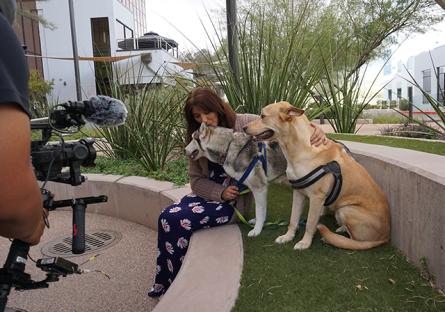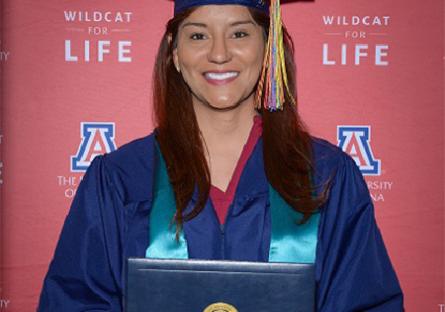 By Mira Radovich, Senior Contributing Writer
For Giselle Velazquez, 2021 was a busy year. First, she earned her associate degree in cybersecurity from Rio Salado College. She followed that up by participating in The College Tour, a web TV series from Amazon Prime.
Finally, she was selected for a Department of Defense cybersecurity scholarship by the U.S. Navy.
"I was fortunate to be selected for the scholarship program," Velazquez said. "The program provides paid tuition, a stipend and a secured job. Most importantly, it provides the opportunity to work for the government and give back to my country."
Velazquez began her cybersecurity career by taking online classes at Rio Salado.
"I chose Rio because as an adult learner and a working professional, I needed a college that could offer me the option of online classes for the entire program," Velazquez said. "Rio Salado provided me with the opportunity to earn my associate degree fully online, and I loved it."
While she enjoyed all of her program's elective classes, her favorites were "Introduction to Networks" and "Ethical Hacking and Network Defense."
Velazquez's inquisitive nature and technical aptitude led her to consider cybersecurity as a career option.
"I have always been interested in computers, networking and digital forensics," Velazquez said. "Cybersecurity seemed to be a field to feature all those three subfields. I also enjoy the investigative part of cybersecurity while working on a penetration test, finding vulnerabilities, remediating and mitigating the risk of exploiting those vulnerabilities."
In May 2022, Velazquez transferred her Rio Salado associate degree credits to complete a bachelor's degree in cybersecurity with an emphasis in defense and forensics from the University of Arizona.
Later this year, she is slated to begin work as an Information Technology Analyst at a Naval surface warfare center in California. She also plans on continuing her education to earn a master's degree.
"I want to continue learning and gaining experience from my job opportunity," Velazquez said. "I am confident my academic formation at Rio and the University of Arizona will provide me the necessary tools to have a successful career with the Navy." 
In the spring, the Amazon Prime web TV series The College Tour came to Arizona to feature the 10 colleges of the Maricopa County Community College District. Velazquez, one of four Rio Salado students featured, was excited to share the story of her journey as a minority transgender student.
"I come from a very humble family from a small village in the state of Tabasco," Velazquez said. "Life was hard at times. I wanted to share my story because being part of a minority within a minority group, it was important to me to create awareness of transgender issues in the Latinx community."
She continued, "I also wanted people to know no matter how old or how crazy you think your dreams and aspirations are, if you are faithful to them, they will come true."
Watch Giselle's story in Spanish. 
Watch more episodes about the lives of our students, and why they chose to pursue their education at Rio Salado College.
Jackie Elliott (English)
Mahesh Poudel (English)
Vera Batista Cespedes (Spanish)
Watch The College Tour English and Spanish versions now to hear more about the lives of Maricopa Colleges students. The episodes will air on Amazon Prime beginning in August.
About The College Tour
The College Tour is a web TV series from Amazon Prime that helps students and families visit colleges across the country — from the comfort of their homes. Each episode tells the story of a single college through the lens of its students, faculty and alumni. The series debuted on Amazon Prime in 2021. Season Five features all ten of the colleges that make up the Maricopa County Community College District. This is the first time The College Tour will focus on community colleges.
---
Graduada zarpa hacia una carrera en la Marina después de obtener su título
Por Mira Radovich, Escritora Colaboradora Senior
Para Giselle Velázquez, 2021 fue un año ajetreado. Primero, obtuvo su título de asociada en seguridad cibernética en Rio Salado College. Continuó con una participación en The College Tour, una serie de televisión web de Amazon Prime.
Finalmente, fue seleccionada para una beca de seguridad cibernética del Departamento de Defensa por parte de la Marina de los EE. UU.
"Tuve la suerte de ser seleccionada para el programa de becas", dijo Velázquez. "El programa proporciona matrícula paga, un estipendio y un trabajo seguro. Lo más importante es que brinda la oportunidad de trabajar para el gobierno y retribuir a mi país".
Velázquez comenzó su carrera en ciberseguridad tomando clases en línea en Rio Salado.
"Elegí Rio porque, como estudiante adulta y profesional en activo, necesitaba una universidad que pudiera ofrecerme la opción de clases en línea para todo el programa", dijo Velázquez. "Rio Salado me brindó la oportunidad de obtener mi título de asociada completamente en línea y me encantó".
Si bien disfrutó de todas las clases optativas de su programa, sus favoritas fueron "Introducción a las redes" y "Hackeo ético y defensa de redes".
La naturaleza inquisitiva y la aptitud técnica de Velázquez la llevaron a considerar la ciberseguridad como una opción profesional.
"Siempre me han interesado las computadoras, las redes y el análisis forense digital", dijo Velázquez. "La seguridad cibernética parecía ser un campo que incluye esos tres subcampos. También disfruto la parte de investigación de la ciberseguridad mientras trabajo en una prueba de penetración, encontrando vulnerabilidades, remediando y mitigando el riesgo de explotar esas vulnerabilidades".
En mayo de 2022, Velázquez transfirió sus créditos de grado asociado de Rio Salado para completar una licenciatura en seguridad cibernética con énfasis en defensa y ciencia forense de la Universidad de Arizona.
A fines de este año, está programada para comenzar a trabajar como analista de tecnología de la información en un centro de guerra de superficie naval en California. También planea continuar su educación, para obtener una maestría.
"Quiero seguir aprendiendo y ganando experiencia con mi oportunidad de trabajo", dijo Velázquez. "Confío en que mi formación académica en Rio y la Universidad de Arizona me brindarán las herramientas necesarias para tener una carrera exitosa en la Marina".
En la primavera, la serie de televisión web de Amazon Prime, The College Tour, llegó a Arizona para presentar las 10 universidades del distrito de universidades comunitarias del condado de Maricopa. Velázquez, una de cuatro estudiantes presentados por Rio Salado, estaba emocionada por compartir la historia de su viaje como estudiante transgénero perteneciente a una minoría.
"Vengo de una familia muy humilde de un pequeño pueblo en el estado de Tabasco", dijo Velázquez. "La vida era dura a veces. Quería compartir mi historia porque, al ser parte de una minoría dentro de un grupo minoritario, era importante para mí crear conciencia sobre los problemas transgénero en la comunidad latina".
Continuó: "También quería que la gente supiera que no importa la edad o qué tan locos creas que son tus sueños y aspiraciones, si eres fiel a ellos, se harán realidad".
Mira la historia de Giselle en español.
Vea más episodios sobre la vida de nuestros estudiantes y por qué eligieron continuar su educación en Rio Salado College.
Vea las versiones en inglés y español de The College Tour ahora para escuchar más acerca de las vidas de los estudiantes de Maricopa Colleges. Los episodios se transmitirán en Amazon Prime a partir de agosto.
Acerca de The College Tour
The College Tour es una serie de televisión web de Amazon Prime que ayuda a los estudiantes y sus familias a visitar universidades de todo el país, desde la comodidad de sus hogares. Cada episodio cuenta la historia de una sola universidad a través de la lente de sus estudiantes, profesores y exalumnos. La serie se estrenó en Amazon Prime en 2021. La quinta temporada presenta las diez universidades que conforman el distrito de universidades comunitarias del condado de Maricopa. Esta es la primera vez que The College Tour se centrará en los colegios comunitarios.