Thursday, August 11, 2022
Notice
This article appears for archival purposes. Any events, programs and/or initiatives mentioned may no longer be applicable.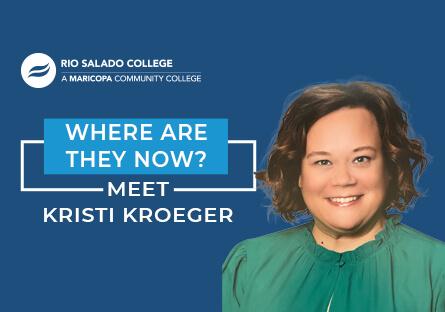 By Mira Radovich, Senior Contributing Writer
Kristi Kroeger's dream was to become a teacher. After she graduated from Utah State University in 2003, she married a military man and moved to Virginia where he was stationed.
As Kroeger was not certified to teach in Virginia, she worked in non-profit arts education and tutored local children while also raising four children.
When her youngest child was in kindergarten, Kroeger took the first steps to realize her childhood dream.
With her family now in Arizona, Kroeger earned an emergency credential to teach elementary education, but to become certified, she turned to Rio Salado College's educator preparation program.
"Rio was highly recommended by my district when a principal asked if I would come into the school to interview for a fourth-grade position," Kroeger said. "But at the time I did not have a valid Arizona credential."
Moving to online learning was new to Kroeger, but she quickly saw the benefit of being able to take classes on her schedule.
"It was definitely a shift from traditional schooling," Kroeger said. "However, because I was teaching full-time, the flexibility of learning from home for my post-bacc work was very helpful."
Kroeger also offers the following advice to others who may be considering online learning.
"The No. 1 tip I would give for online learning is to create a schedule that works for you and stick to it," Kroeger said. "It will mean sacrifices. I missed family events, and opportunities with friends, but I had to look at the big picture and remember that the sacrifices are temporary, while the education is forever."
In 2018, Kroeger completed the Teacher in Residence program and earned her K-8 certification from Rio Salado.
"My certification prepared me in numerous ways for the job of teaching," Kroeger said. "The practicum class was particularly helpful. As students, we met weekly to discuss issues we faced as new teachers. The practicum advisor came to our classrooms to observe us and offer feedback. The work experience was invaluable."
Today, Kroeger teaches sixth grade English Language Acquisition in the Deer Valley Unified School District (DVUSD). She also serves as her school's Campus Intervention Coordinator to help facilitate programs for students in need of learning interventions.
Kroeger is the recipient of several DVUSD awards, including Teacher of the Year for 2022. She is grateful that Rio Salado helped her realize her childhood dreams of becoming a teacher.
"I would recommend Rio to future students because every instructor I had was either still teaching or had been a teacher," Kroeger said. "They had a deep understanding and connection to the content we were learning and could assist in practical ways."
Kroeger's future plans may have the teacher as a student once again.
"Currently I am deciding on if I will pursue a master's degree in Administration so that I can pay the mentoring forward with future educators."
Want to become a teacher? Attend a free orientation session this month to learn more about the traditional post-baccalaureate certificate program. Rio is currently also accepting applications for the teacher-in-residence post-baccalaureate program. Applications must be submitted by Sept. 6.