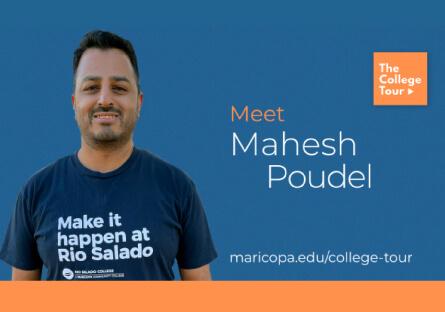 Mahesh Poudel Shares His Passion For Programming on The College Tour
For Mahesh Poudel, a driven father of two, enrolling at Rio Salado helped him reconnect to a passion for technology that he felt deeply in his youth.  Poudel shared his Rio story with The College Tour, an Amazon Prime TV series that tells the stories of colleges through the experiences of their students.
Students from all walks of life come to Rio Salado College. For many working adults, Rio Salado is a place to help them reignite the spark of learning. Whether they are  students interested in recareering or people looking to get back on the path toward earning a degree after work or familial obligations required them to change direction, Rio Salado College is here to help them achieve their goals.
While Poudel has harbored a fascination for technology for most of his life, he had to pause his studies in the subject when he moved to the U.S. from Nepal in 2002. "I always wanted to go back to college ever since I had to cut my education short when I moved to the U.S," Poudel said. The convenience of online learning drew him back to school when he enrolled at Rio Salado College in 2018.
"Being a working dad of two children and taking care of families here and overseas, it never seemed easy to make time for my classes," Poudel said. "Rio did make it easy with their flexible start times and online options for almost all their classes."
The Gilbert-based Poudel focused his studies on programming; his diligence paid off when he earned an Associate degree in Applied Science in Programming and System Analysis this year. Poudel is quick to point out how engaged he was by his classes. 
"My work is in programming so I loved taking classes on all of the programming languages," Poudel said. "Beside that, I especially liked ENG101, ENG102, and Public Speaking classes. These classes taught me proper ways of writing and speaking English which will be handy every day."
Poudel plans on continuing his education in his field. "I will be traveling a little, evaluating undergrad classes from ASU and U of A and preparing to join one of the universities for the fall semester." His passion for technology is contagious; you'd be hard-pressed to find a more enthusiastic advocate for the benefits of computer literacy.
"I think every student should have some programming knowledge to advance in any field," Poudel said. "It teaches the intricacies of computers."
When asked why he wanted to participate in The College Tour, Poudel expressed a desire to set an example that other people in his situation could be inspired by.  "I wanted to share my story on late career change, adult education and how important it is to get a degree even if you are well established in any field."
Like so many working adults, Poudel found the prospect of getting back into the educational groove an intimidating prospect. Learning is a state of vulnerability: to admit you don't know something, to be honest that you have room to grow. It can be hard at any age to accept these truths about yourself. But the rewards for doing so can be great.
"When I first joined Rio Salado I did not know if this move was right for me," Poudel said. "Now I'm glad that I got it started."
See Mahesh Poudel's story on The College Tour: https://www.youtube.com/watch?v=ez6b8HghjGA