Thursday, September 22, 2022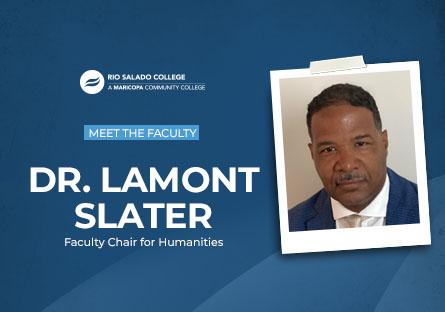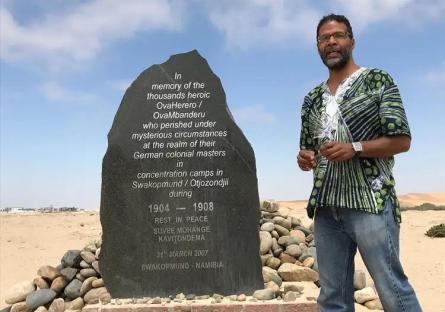 Dr. Lamont standing next to the Namibian genocide monument.
Redefining History: A New Way to Teach the Past
By Mira Radovich, Senior Contributing Writer
A chance encounter at a museum in Germany forever changed Dr. Lamont Slater's career path.
The Bronx, New York native had joined the Army after high school and was stationed in Kitzingen.
"I decided to explore Germany a bit, and visited the Auschwitz-Birkenau memorial and museum," Slater said. "I figured the only way to understand the Holocaust past the surface level instruction that I received was to visit the museum for a deeper understanding."
At the museum, Slater struck up a conversation with a local visitor.
"He asked me if I was aware of the crimes toward Black American soldiers, the Afro-Deutsch community, and residents of Germany that immigrated from Africa," Slater said. "This stranger was also the one that first told me about the Namibian genocide, which is widely considered the first genocide of the 20th century."
After learning about this information, Slater put aside his plans to pursue a career in law after his military service.
"I decided to pursue a teaching career because I believed that the history lessons that I had previously received were incomplete," Slater said.
Slater enrolled at Morris Brown College in Atlanta to study political science, but also enjoyed classes in other subject areas.
"I took many classes that were inter-disciplinary," Slater said. "I realized that I didn't need to focus on one main area. By examining the subject from an architectural, religious, historical and philosophical lens, I could deepen my knowledge of African history and genocide."
Slater went on to earn a master's degree in humanities from St. Edwards University, and a Ph.D. in humanities from Salve Regina University, where his dissertation focused on the Namibian genocide. This event occurred more than 20 years before the Holocaust.
"I was able to work with local Herero (ethnic group affected by the genocide) leaders to create a monument that accurately depicted what happened to the people who lost their lives," Slater said. "I always envisioned that my Ph.D. research would be a 'living work' and contribute to social justice on a global scale."
Slater brings his passion for social justice, history and teaching to Rio Salado College as the new faculty chair for humanities.
"The opportunity to merge innovation with the student curriculum was one of the biggest draws for me about Rio Salado," Slater said. "I am hoping to re-examine a lot of the course material to ensure that instruction is not only relevant to the current time, but that the material is applicable and includes the perspective of a global lens."
The global lens includes advocating for immersive learning opportunities for students.
"I have lived in both Germany and Namibia, and love to travel to learn and understand new cultures and ways of life," Slater said. "I hope to one day create study abroad opportunities so Rio students can take advantage of experiential learning opportunities abroad."
As for current students, Slater offers three tips for student success in an online learning environment.
"I think that the best advice that I can give to students learning online is to remember these three principles: always hold yourself accountable, find a space where you can maximize your learning, and become an active participant in the course," Slater said.
And for success in life, Slater points to the words of Sun Tzu, a sixth-century Chinese military general and strategist, who said, "There are not more than five musical notes, yet the combinations of these five give rise to more melodies than can ever be heard."
"We all have individual gifts that we can do well, but when we work with another, despite our differences, we can be a powerful force," Slater said. "Rio Salado College captures the essence of the quote because it focuses on inclusion, collaboration and a merging of ideas to create a strong community."