Notice
This article appears for archival purposes. Any events, programs and/or initiatives mentioned may no longer be applicable.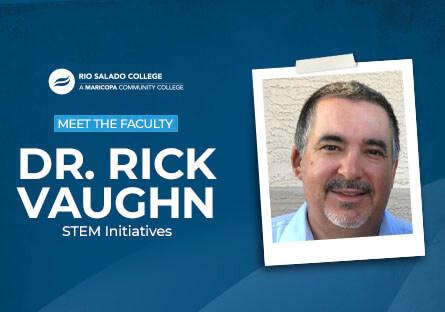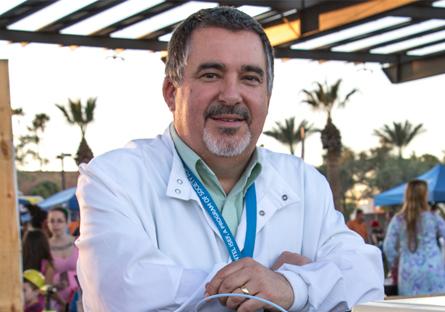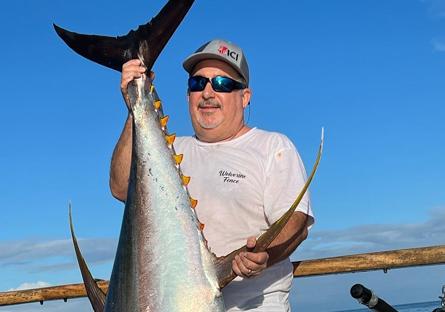 From Wicked to Ghandi to Tuna: A Love of Broadway, Education and Sportfishing
By Mira Radovich, Senior Contributing Writer
As the faculty chair for STEM Initiatives at Rio Salado College, Dr. Rick Vaughn has a passion for all things Science, Technology, Engineering and Math (STEM). He is equally passionate about another, lesser-known STEM acronym: showtunes, travel, enquiry and motivation.
Originally from Utah, Vaughn grew up in Southern California, and when deciding on a program of study for college, he looked at his strengths.
"I chose math entering college as I was good at it and I wasn't quite sure what else to do at the time," Vaughn said. "My real love for the subject and for teaching grew in my senior year and truly blossomed in graduate school."
Vaughn earned a bachelor's degree in mathematics and computer science from the University of San Francisco, and a master's and Ph.D. in mathematics from the University of California at Davis.
Several influences led Vaughn to a career in education.
"My father inspired me to be curious and to be a teacher," Vaughn said. "Other sources of inspiration include Mahatma Ghandi's quote, 'Be the change you want to see in the world,' John F. Kennedy, and my middle school math teacher, Mr. Maxwell."
Vaughn has been with the Maricopa Community Colleges for 24 years, including 11 at Rio Salado. 
He is the published author of more than 15 journal and conference proceeding articles. In 2021, he helped Rio Salado receive a $300,000 grant from the National Science Foundation to train 30 students and increase the employee pool for the nanotechnology industry.
"Maricopa County has become a tech hub for many international companies with hiring needs for micro- and nano-technicians," Vaughn said. "This year alone we have three fabrication plants opening with Taiwan Semiconductor Manufacturing Company and Intel."
Vaughn said students considering a career in STEM can take advantage of Rio's micro credentials, as well as certificates and degrees in each STEM area now and coming soon.
He added, "Technician careers using nanotechnology are abundant and they also pay well!" 
Dr. Rick Vaughn Dishes on the Other STEM in His Life
Showtunes
"I have a ton of musical inspirations depending on my mood. On a day-to-day basis, I listen to Broadway showtunes. Today, for example, my song of choice is 'No Day Like Today' from 'Rent.' When I need my soul lifted, I listen to Beethoven's Symphony No. 9, particularly the fourth movement chorale 'Ode to Joy.' If I want to get amped up for something, I'll listen to Green Day's 'American Idiot.'"
Travel
"In my spare time I enjoy sportfishing in San Diego, Mexico, and more recently, all over the world. I have a trip planned to Panama soon and Costa Rica later this year. My favorite trips have been to the museums of Florence, Italy and Paris, France to see the great masterpieces."
Enquiry
"I am truly inspired by the collaborative and supportive nature of most of my colleagues at Rio Salado College. I have a lot of questions and I love that math, our data sources, our support staff, and my colleagues are able to help me answer them."
Motivation
"Advice for students (especially online): Persistence is the most important! Don't see bumps in the road as failures, but rather obstacles to get through. FAIL stands for a First Attempt in Learning. Or as the Kelly Clarkson song says, 'What doesn't kill you makes you stronger.'"