Thursday, February 24, 2022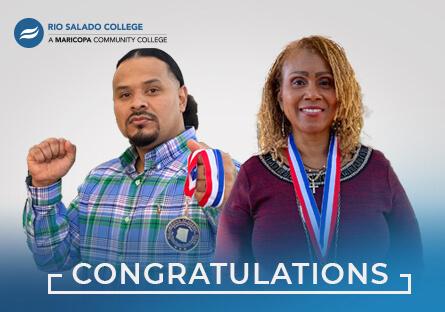 Meet Rio Salado College's 2022 All-Arizona Academic Scholars Cordero Holmes and Carolyn Schack
Rio Salado College students Cordero Holmes and Carolyn Schack were among 78 Arizona community college students honored at the 2022 All-Arizona Academic Team Celebration on Feb. 24. The annual ceremony recognizes students who have demonstrated outstanding academic achievements, community service and distinguished leadership that extends their education beyond the classroom to benefit society. 
Cordero acknowledges he's come a long way from his first classes with Rio Salado while incarcerated. Today, he is a husband, father and full-time employee, as well as active in philanthropy work and Rio's PTK club. He will complete two degrees this year and plans to attend a state university to finish a bachelor's degree. He will be creating a nonprofit focused on transitional housing for women and men re-entering society from prison.
Carolyn is completing her final Rio Salado classes and will transfer to NAU to complete her bachelor's degree online later this year. She aspires to continue her work in the healthcare field and serve in community-based behavioral health management. A first-generation college student, Carolyn hopes to inspire others, including her grandson, who recently moved in with her.
The recognition comes with rewards including $500-$1,000 in scholarships and tuition waivers to attend Arizona State University, The University of Arizona and Northern Arizona University. Each community college chooses two students to receive this honor.
"Carolyn and Cordero have demonstrated outstanding leadership qualities," said Rio Salado President Kate Smith. "Their work, deeds and goals speak for themselves, and they have clearly shown their commitment to academic excellence and service to others.  We are honored they chose Rio Salado for their educational journey and thankful for their contributions to our college as scholars, ambassadors, and student life leaders. We are truly excited about what the future holds for them, their families and our community."
Cordero and Carolyn are members of Rio Salado's PTK Alpha Theta Omicron Chapter and share a passion for education and helping others.
Cordero Holmes
Cordero Holmes is pretty busy these days. The Rio Salado College student is getting ready to graduate with an associate degree in science and an associate degree in arts with an emphasis in psychology.
He is also a member of Rio's Phi Theta Kappa (PTK) honor society chapter and maintains a 3.90 GPA, all while parenting four children and working 50+ hours per week.
"That is the beauty and benefit of being a Rio Salado College student," Holmes said. "Rio's online classes provide me with the time to attend to my family, work and fulfill school commitments."
"When I need to take a break, I am thankful for my wife, Desire, who helps me balance it all," he said.
Holmes was first introduced to Rio Salado College through its Re-Entry program for incarcerated students. He shared his journey nationally in "A Second Chance at Education," published last fall by Higher Learning Advocates.
"The more I learned, the more I engaged those around me to view the world separate from the thoughts and behaviors that led us into the system," Holmes said.
After his release in 2017, Holmes continued his learning journey by enrolling in Rio Salado's Addictions and Substance Use Disorders dual certificate program, which he completed in 2021.
He found himself thriving in his online classes and decided to join the college's PTK chapter.
"I have gotten so much from being a part of this wonderful organization," Holmes said. "Over the past two years I have enjoyed leading student discussions, participating in statewide workshops and serving as a regional PTK officer."
As part of PTK, Holmes took part in the chapter's annual Honors in Action and college projects.
One was an initiative to help first-semester students navigate the college's online learning platform. Another focused on "Perceptions of Progress," and included research and panel discussions on understanding how different races and cultures perceive progress.
Holmes has also dedicated himself to giving back to his community through volunteer activities.
"I am deeply invested in volunteer work because I am directly affected," Holmes said. "Many of the individuals I assist are men, women, and children who are dealing with circumstances that I have either experienced myself or have witnessed family and friends go through."
In 2021, Holmes served as Rio Salado's student senator on the Maricopa Student Senate, where he advocated for incarcerated students. He also served as a member of the Rio Salado College President's Advisory Council.
"I have learned that I am most fulfilled when I am serving," Holmes said. "My heart burns for people, in particular those who have historically been marginalized. My hope is that when individuals hear my story, they will see themselves in me and know that it is possible."
Holmes plans to transfer to one of Arizona's public universities in the fall to earn a bachelor's degree in either substance use/counseling or psychology.
"My career goal is to provide assistance to communities that have been devastated by drugs," Holmes said.  "Because drugs and incarceration are often intertwined, I want to begin by starting a nonprofit that will build transitional campuses for women and men re-entering society from prison."
Carolyn Shack
Hunger. Addiction. Hopelessness. Those are words Carolyn Shack could hold onto in her life. But she's chosen to turn that into service, resilience and inspiration.
Just completing elementary education was a struggle for Shack; but this spring, she will earn three degrees: an AAS in addictions and substance abuse disorders and two AA degrees, one in liberal arts and one in general studies. Shack plans to pursue a nursing career in substance abuse counseling by transferring to Northern Arizona University and completing her bachelor's degree online.
This achievement was not always clear. At one point, Shack failed sixth grade due to family issues. A loving uncle and a caring aunt, who became her foster mom, turned her life around. Shack found support at home and at school, including from a science teacher who, "saw I had endless potential and corrected mischievousness." 
"The encouragement from these mentors taught me that I could accomplish anything even if a setback happens and that I can still excel with persistence," she said.
That persistence guided her through addiction, liver failure, a near-death diagnosis, depression and divorce. Finding herself as a single mom of two, Shack sought to lift up her family. She completed her nursing license in 2012 and started a home-health business.
"Surviving prompted encouragement, motivation, and determination to help family, friends, and community members fight addictions through sharing self-knowledge and nursing professional insight working with substance abuse patients," she said.
Colleagues saw her gift and encouraged her to continue that service. In 2020, she enrolled in Rio Salado College. 
Shack excelled in school, joining Rio Salado's PTK Alpha Theta Omicron Chapter, a service organization for academically driven students. Seeing the impact of the pandemic while distributing food in Phoenix led Shack to start a philanthropy in 2021: Free Brown Bag Lunch. Shack and a group of six volunteers - including Holmes and other PTK members - deliver sack lunches and necessities each month. In December, the group went downtown on Christmas Day.
"It was a very good day even though we were soaking wet," she said. "We don't just take a meal. We mingle and talk. They know my truck."
Shack is a first-generation college student, like many Rio Salado students. She hopes her journey inspires family members, including her teenage grandson who recently moved in with her.
"There are times when people question why middle-aged people return to school. (They say) 'Why bother?'" Shack said. "When you're older you have more patience. You prioritize a lot better. You comprehend better. You have life experience. When you're reading it's not new to you. You can rationalize and it's a lot more clear."
"I would tell people who have a desire to finish their education that you just have to step out on faith and do it. … You'll be surprised. 
All AZ Celebration
The All-Arizona Academic Team Celebration is hosted annually by Mesa Community College on behalf of the Arizona Board of Regents and Phi Theta Kappa Honors Society. You can watch the 2022 ceremony on YouTube. https://youtu.be/StcSHPqxJbk
#AllAZScholars