Notice
This article appears for archival purposes. Any events, programs and/or initiatives mentioned may no longer be applicable.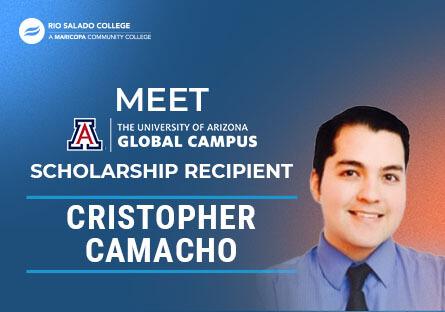 Meet UAGC Scholarship Recipient Cristopher Camacho   
Rio Alum Finds His Future In Project Management 
Glendale's Cristopher Camacho is one of several Rio Salado scholars to receive a prestigious full-ride scholarship to the University of Arizona Global Campus (UAGC). The scholarship partnership between Rio Salado and UAGC was established in 2021 to offer six Rio scholars the opportunity to continue their education at a four-year school.
Based in Glendale, Camacho graduated from Rio Salado College with an associate degree in applied science in paralegal and a paralegal certification.
"I went to Rio initially because it was the only online school that seemed reputable," Camacho said. In his scholarship essay Camacho praised the advantages of learning online at Rio. 
"Being online, you do not worry about your peer's appearances of their backgrounds," Camacho wrote. "Inclusion was an important trait in a college for me, as it allowed me to network with peers who I would not have had the pleasure of meeting."
Camacho's life experiences and the education he acquired at Rio helped him further his career as a project manager.
"I'm already in my career of choice," Camacho said. "I'm a senior software project manager. What helped me get there was getting my paralegal certification. It was a lateral transition from being a paralegal to becoming a project manager."
For Camacho, project management was an unexpected but welcome shift in his professional trajectory. 
"It kind of just happened on its own," Camacho said. " I had experience being an immigration paralegal and a software company found me through LinkedIn. They needed someone with that kind of background to be a project manager for their immigration case management software."
Camacho plans to pursue a bachelor's degree in computer software technology online at UAGC. He plans to use this degree to make a move into the software development side of his industry.
"It is evident to my peers that I have come a long way personally and professionally and I credit my success to Rio Salado College," Camacho said.
Article by Austin Brietta
Meet more of our UAGC scholarship recipients: