Tuesday, November 15, 2022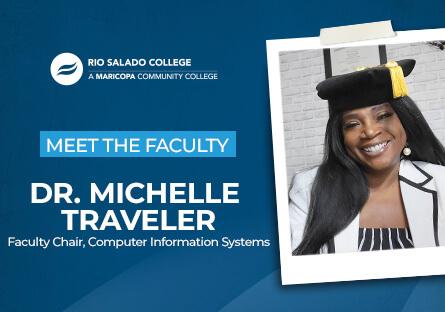 New Faculty Chair Looks Forward to Serving Students Worldwide
By Mira Radovich, Senior Contributing Writer
Dr. Michelle Traveler, Rio Salado College's new faculty chair for computer information systems, always knew education was her lifeblood.
"My father, a college graduate, set college expectations for my sister and I very early in life," Traveler said. "My parents, grandmothers, and ancestors who were denied an education or had to attend segregated schools under Jim Crow laws also inspired me to attend college."
Originally from Shreveport, Louisiana, Traveler's family relocated to Arizona for her dad's banking career. She grew up in the Phoenix metropolitan area, and proudly began her college career at South Mountain Community College.
She credits her late mother for helping her reach academic success.
"My mother supported me throughout college," Traveler said. "If it were not for her providing childcare when there were no other options for me, I would not have been able to accomplish my goals."
Those goals included earning a bachelor's degree from Arizona State University, an MBA from the Keller Graduate School of Management, and a Ph.D. in information technology from Capella University.
Traveler's foray into the field of technology began more than 25 years ago.
"My first technology role was in 1994 when the internet was in its infancy," Traveler said. "My role required me to learn new technologies and create digital products for faculty and staff. In that sense, I feel like technology chose me and I did not choose it."
Traveler has worked at six of the ten colleges that make up the Maricopa County Community College District (MCCCD) and brings that experience to her new role at Rio Salado.
"I decided to work at Rio to become a part of the next innovative technology developments," Traveler said. "Rio Salado is the only college in the MCCCD system with a unique course offering model that serves students around the world."
Specifically, Traveler is looking forward to increasing access to Rio's computer technology classes to diverse student communities worldwide.
"I am also looking forward to expanding programs that introduce students to a wide array of technologies in the Cloud space," Traveler said.
For students interested in computer technology careers, Traveler advises checking out Rio's robust collection of IT offerings, which include micro certifications, certifications and degrees.
"Since the field of technology has some of the highest job growth projections, I highly recommend adding a minor in a technology-related field to support non-tech roles," she said.
She also advises online students to ask for help if they need it.
"My advice for student learning in an online environment is to use your college resources and ask questions," Traveler said. "Do not allow yourself to get frustrated. Reach out to your college advisor, financial aid office, and counseling to get your questions answered."
Traveler is passionate about student success, even in her personal time.
"People might not know that I actively support students by hosting a weekly Instagram show where guests share their experiences in college and share their advice to college students," she said.
In addition to her IG show, Traveler's educational outreach activities include presenting STEM workshops at local and national conferences, serving as president-elect of the Maricopa Council on Black American Affairs, and being featured as one of six faculty from around the world on the new Apple Higher Education website.
She has also served as a programmer/analyst, computer technology adjunct and full-time faculty, and has taught computer classes for Mesa public high school students and Primavera Online High School.
"I earned all of my degrees as a single-parent and strive to advocate for education access for at-risk populations," Traveler said. "I want to bring my experience working in the higher education space and my own life experiences to show students how life-changing education can be."