Notice
This article appears for archival purposes. Any events, programs and/or initiatives mentioned may no longer be applicable.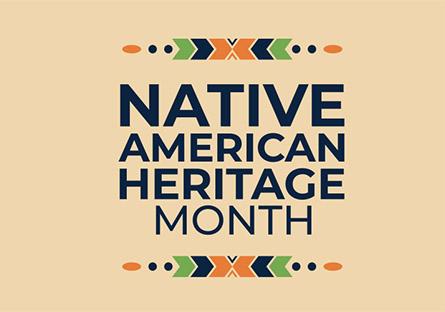 In 1990 President George H.W. Bush approved a resolution making November Native American Heritage Month. This annual honor came to be thanks to decades of hard work from American Indian activists like Dr. Arthur C. Parker, Sherman Coolidge, and Red Fox James. Every year our nation recognizes the rich cultural heritage, accomplishments, and histories of America's many tribes of Indigenous peoples.
At Rio Salado College we're proud of our Native American students, faculty, and staff members. Rio Salado's campuses are located on the ancestral lands of the Gila River and Salt River Pima-Maricopa Indian Communities which count the Piipaash, Onk Akimel O'odham, and Akimel O'odham among their members. Join us as we celebrate the heritage of a proud people throughout the month of November with our library resources, specialized classes, and an informative discussion event.
Fostering Belonging through Storytelling
November 30, 2022
11:00 am. - 12:30 p.m.
Event link: TBA
Join Rio Salado College for a collaborative discussion with APUS (American Public University System). Our featured speaker will be Kyle Mitchell. Kyle Mitchell is Diné (Navajo), Storyteller, Educator, and Veteran. He grew up on the reservation with his grandparents, where he learned the family's work ethic and oral tradition daily. After graduating high school, he enlisted in the Army as an Infantryman, where he served with two tours – one in Iraq and one in Afghanistan. After his discharge from the military, he decided to pursue his higher education at South Mountain Community College and later went on to Arizona State University. Kyle is currently the Program Manager for South Mountain Community College's Vice President of Academic Affairs, manager of extended campuses in Guadalupe and Laveen, and adjunct faculty member of the Storytelling Institute at SMCC. Mitchell believes that sharing the power of oral traditions can reinforce individuals' sense of self-identity and break stereotypes towards Indigenous communities.
Our sister community colleges in the Maricopa district are also hosting their own events, so if you'd like to check out some more heritage events go to MCCCD's events page.
Library Guide
Rio's library staff have put together an informative guide full of resources and media related to Native American Heritage Month.  Learn more about Native American history, check out the library's recommended list of 20 Native books (including works by Tommy Orange, Louise Erdrich, and Angeline Boulley), and watch a short film by Joe Buffalo.
Take A Class
Want to learn more about Native American history and culture? Rio Salado offers two courses focused on this fascinating field of study:
HIS105: Arizona History
The prehistoric and contemporary Native American experience, Spanish colonial times, the Mexican National period, the U.S. federal territorial years, and Arizona's political and economic development during the twentieth century.
ASB245: Indians of the Southwest
Comparative study of the cultures, including the histories and present status, of Indians of the Southwest.
Article by Austin Brietta