Thursday, January 27, 2022
Notice
This article appears for archival purposes. Any events, programs and/or initiatives mentioned may no longer be applicable.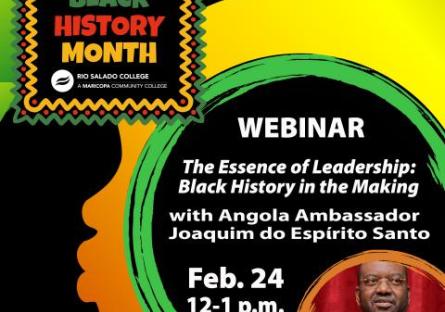 Take part in The Essence of Leadership: Black History in the Making, a Black History Month webinar with Angola Ambassador Joaquim do Espίrito Santo hosted by Rio Salado College, Feb. 24.
This event will feature a keynote address and discussion with Ambassador Espίrito Santo, who will discuss the legacy of black leadership, the links between history and current events— and their rippling effects on the future of civil rights.
Ambassador Espírito Santo will be joined by Rio Salado Faculty Chair for Psychology, Philosophy and Religious Studies Wanda Tucker to talk about the significance of Black leaders in history and Dr. Tucker's personal journey retracing her family's history as a descendant of the first generation of African slaves brought to the United States from Angola.  
The Essence of Leadership: Black History in the Making
Thursday, Feb. 24, 2022
12-1 p.m. Arizona Time
Registration required in advance.*
This event is presented by Rio Salado's Diversity, Equity, Inclusion, and Belonging Committee to help foster a culture that values and honors everyone's unique qualities with respect and dignity.
Please forward your questions and requests for special accommodations to Kevyn Miller at kevyn.miller@riosalado.edu or (480) 517-8076. Please note, this event will be recorded to share with the public.
*Registration link removed due to registration closed as of Feb. 25, 2022.