Notice
This article appears for archival purposes. Any events, programs and/or initiatives mentioned may no longer be applicable.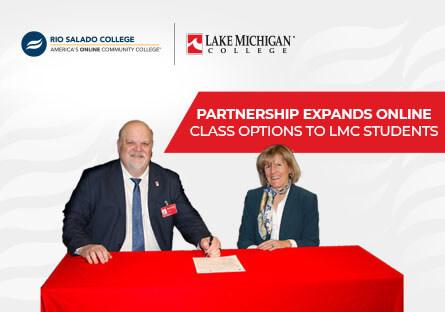 Rio Salado Collaboration Provides Expanded Online Class Options to LMC Students
Lake Michigan College President Trevor A. Kubatzke and Rio Salado College President Kate Smith signed a historic partnership agreement Friday morning at the Todd Center on LMC's Benton Harbor campus.
Beginning Monday, March 7, students can register for select online classes offered by the Tempe, Arizona-based community college that will count toward LMC degree and certificate programs. Those programs include two new languages – French and American Sign Language – and new certificate programs in Risk Management and Insurance, and Cybersecurity.
"It's a new model and a new way of thinking," Smith said. "We are not competing. We are working together, which benefits students. We are the first in the country to try something like this, and I think it will be part of how higher education is redefined. To be at the forefront, to be a part of that and be leading in that together is amazing."
Smith said the idea for this partnership came out from a conversation with Kubatzke after meeting at a conference three years ago.
"Rio Salado is among the most well-respected online institutions in the nation," Kubatzke said. "If you look at their success rates, you quickly realize that they know how to do this, and they do it well. My goal is always to give students what they need. We want to offer more opportunities for our students, but it's impossible to hire faculty in every discipline. That's why this makes so much sense. This agreement allows our students to explore so much more. It's the best of both worlds. It's online at Rio with the on-ground support of LMC."
Rio Salado College is one of the largest online public community colleges in the nation, serving nearly 40,000 students annually, with more than 28,000 online in 50 states and internationally. Founded in 1978 and headquartered in Tempe, Arizona, Rio Salado offers 600-plus online classes, 135-plus degree and certificate programs, and general education courses. The college also supports dual enrollment, military, and incarcerated students and serves as the largest provider of adult education in Arizona. 
Classes offered through this partnership for the Summer 2022 semester are American Sign Language I and II, Elementary French I and II, and Ethical Hacking and Network Defense.
Additional course offerings available for the 2022-2023 academic year may also include American Sign Language III and IV, Intermediate French III and IV, Insurance Industry Profession, Principles of Property and Liability Insurance, Personal Insurance, Commercial Insurance, Claim Handling Principles and Practices, and IT Ethics.