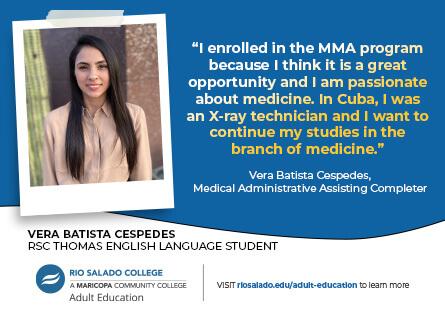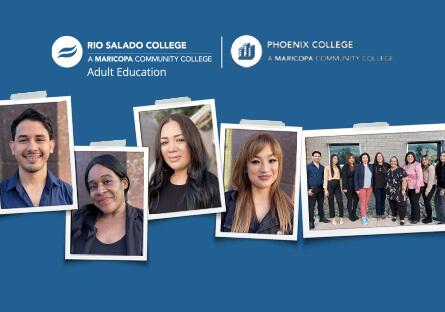 Rio Salado College Adult Education Celebrates Medical Administrative Assisting CCL Graduates in Partnership with Phoenix College
Rio Salado's Adult Education Program celebrates the first cohort of certificate graduates for the Medical Administrative Assisting (MAA) career training program in partnership with Phoenix College. This exclusive partnership between Rio Salado and Phoenix College started in March 2021 and gives adult education students access to training as a Medical Administrative Assistant. The Adult Education co-enrollment program allows students to receive valuable career training with Phoenix College at the same time they are working toward their high school equivalency diploma or learning English with Rio Salado College.​
The 20 integrated education and training students successfully completed 18 credit hours to earn a certificate of completion (CCL) in Medical Administrative Assisting through Phoenix College. The students are now eligible and prepared to sit for the national Certified Medical Administrative Specialist (CMAS) exam to earn their professional credential. Additionally, the students have the opportunity to stack credentials, improve their qualifications, and advance themselves in the field through Phoenix College's Medical Assisting (MA) CCL program.   
Read what a few of our graduates had to say about the program: 
Selena Torres, English language student: "Taking this course was one of the best decisions in my life. The whole experience was truly something unforgettable. I've learned so much. I never thought I could find a job I love in the medical field, but after taking this class, I want to pursue my dream of becoming a nurse." 
Elizabeth Chavez, High School Equivalency student: "I would like to express my gratitude for being given the opportunity to attend this MAA class. This experience has been a lifelong dream of mine, and I am ready for my future endeavors. I've learned knowledge is power; you are never too old to educate your mind." 
Jose Robles Navarro, English language student: "I would like to thank all the staff of Río Salado College and Phoenix College for giving me the opportunity to continue my studies. I learned wonderful things in the last ten months. Now, it is time to think and execute my potential in the medical field. Thank you again!" 
Rotasha Bellamy, High School Equivalency student: "Rio Salado helped me prepare for the future by giving me the skills and knowledge to continue my education."
A full list of graduates include: Lisa Avila, Daniela Ayon Patino, Vera Batista Cepedes, Rotasha Bellamy, Aimee Borunda Jimenez, Elizabeth Chavez, Carolina Diaz De La Torre, Christina Escobar, Nimia Ghigliotty Rodriguez, Elezabeth Hartman, Jo Ann Johnson Cofresi, Sothy Keo, Jessica Luna, Berenice Luna Morachis, Olga Moisseyeva, Jose Robles Navarro, Mercedez Ruiz, Karoline Saldana Casillas, Elisa Soto, Selena Torres
Students started the program amid the global pandemic and a bit of uncertainty.
"The Medical Administrative Assisting pathway has become a model program for integrated education and training," said Kelly Stewart, Rio Salado College associate dean of community development. "Students can expedite their progress toward an industry credential in the healthcare field and a high school diploma while receiving targeted support designed for adult learners. This program gives students like Vera Batista Cespedes, who was an X-ray technician in her own country, the opportunity to pursue an occupation in healthcare in the United States."
Batista Cespedes, an English language learner at Rio Salado who co-enrolled with Phoenix College to earn a Medical Administrative Assisting certificate said, "I enrolled in the MAA program because I think it is a great opportunity and I am passionate about medicine. In Cuba I was an X-ray technician and I want to continue my studies in the branch of medicine." 
Medical administrative assistants are healthcare professionals who are key members of the administrative medical office team. They foster a friendly and positive patient experience while performing numerous administrative duties that adhere to state and federal standards.
The Medical Assisting Program at Phoenix College is a true stackable workforce program with multiple micro and professional credentials. The first semester of the program, Medical Administrative Assisting, is 18 credits and fully online. At the completion of the first semester, students can earn their first industry credential, Certified Medical Administrative Specialist (CMAS), and find entry-level employment in the industry.
Students who wish to continue in the Phoenix College Medical Assisting Program complete 24 additional credits for their clinical hybrid lab classes. At the completion of these classes, students earn their second certificate from Phoenix College and are then prepared for their second industry credential, Certified Medical Assistant (CMA) or Registered Medical Assistant (RMA) Medical Assisting. Students have further opportunities to earn their Associate of Applied Science (AAS) degree through Phoenix College with direct transfer to Northern Arizona University to then earn their Bachelor of Health Science with an emphasis in medical assisting.
Congratulations to all the Medical Administrative Assisting graduates, and best wishes on your next steps, wherever they may take you.
Interested in this Career Training program offered by Rio Salado College Adult Education? Visit this page for more information.