Notice
This article appears for archival purposes. Any events, programs and/or initiatives mentioned may no longer be applicable.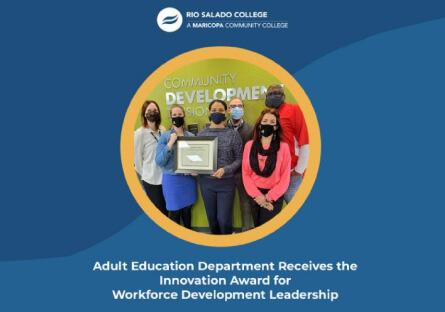 Rio Salado College Adult Education Earns a Workforce Development Leadership Award
Rio Salado College (RSC) Adult Education received the Innovation Award for Workforce Development Leadership at the December 2021 Workforce Leaders Convening hosted by the Workforce Arizona Council. The event was held at Arizona State University SkySong and enabled workforce development professionals from across the state to network, discuss the current workforce development landscape, hear directly from employers, and discuss best practices. 
The innovation award recognizes individuals, groups, and organizations for extraordinary innovation that impacts systems, customers, or professionals within the workforce system. Sheryl Hart, Deputy Associate Superintendent at Arizona Department of Education, nominated RSC Adult Education for their program's No Wrong Door Approach to marketing, outreach, and registration that RSC presented at the Fall statewide conference. In this approach, potential Adult Education students are able to register for in-person or live-online classes at any RSC location no matter what door they step into.
RSC Adult Education's No Wrong Door Approach uses Rio Central, an innovative Google site developed early in the pandemic, as a centralized and strategic communication hub to support students from their initial inquiry to program completion. Using a streamlined marketing approach, RSC reduced the number of landing spots students must visit to get real-time information and resources to help them stay on track with their college and career goals.
At Rio Central, students can access
class offerings (including career training options and program details)
start and end dates for all courses
information on High School Equivalency Pathways
enrollment through an easy process incorporating DRIFT appointment scheduling software
adult education academic resources and learning management systems
help guides for technology-related questions
Counseling Services and resources
Disability Services and information
career resources and services
partner resources available through ARIZONA@WORK, Chicanos Por La Causa, and others
community resources to support basic needs, including food, housing, transportation, wellness, and other essential services
and much more!
RSC Adult Education incorporates Google Analytics to track how students access program information and what resources students frequently use during enrollment through embedded QR codes and NFC technology. RSC then uses this information for continuous quality improvement to ensure the enrollment process is personalized and student-friendly.