Tuesday, December 20, 2022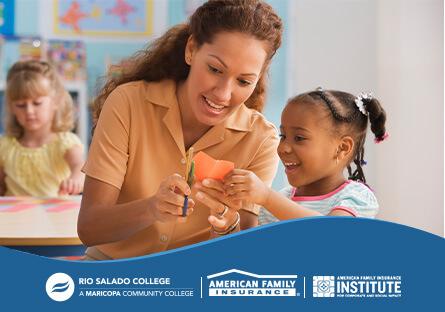 High school students to receive scholarships and personal support to earn college credit and complete career-ready credentials
TEMPE, ARIZ. (Dec. 20, 2022) -- High school students in the East Valley and Deer Valley will be well on the road to career success in early childhood education thanks to a new partnership with Rio Salado College and the American Family Insurance Institute for Corporate and Social Impact. Identified students at Tempe Union High School District and Deer Valley Unified School District who are working toward their college certificate in early childhood education through Rio Salado College's concurrent enrollment program will receive scholarships to earn college credit. The partnership will also provide facilitators who will support students in accessing college resources they may need to stay in school and manage work/school/life balance.
"At the Institute, we are committed to advancing equity in education and believe that a strong early educator workforce is essential for communities to thrive," said Shayna Hetzel, Community and Social Impact Director, American Family Insurance Institute for Corporate and Social Impact. "We are proud to be partnering with Rio Salado College to support high school students' interest in the early childhood profession with the goal to increase the diverse talent pipeline of early educators in the Phoenix metropolitan area."
The Institute is providing $90,000 for the partnership to help as many 75 students complete their college certificate over the 2022-23 and 2023-24 school years. Student candidates for the program will come from those who are just a course or two shy of earning the early childhood certificate at Rio Salado College. Through this concurrent enrollment model, students will take Rio Salado online classes while they also complete their high school studies.
"The AmFam partnership will allow us to offer high school students the opportunity to complete an early childhood education industry recognized college certificate while still in high school," said Rene' Manning, Director, Rio Salado Undergraduate Educator Prep Program. "This pilot program eliminates barriers such as tuition and registration costs and provides targeted support for student success. We hope this project will be a model that could become a part of a workforce development system for the early education industry."
Theresa Ettinger is an early childhood education teacher at Corona del Sol High School in the Tempe Union High School District.
"I personally saw the certificate (CCL) program impact students in such a positive way," she said. "Three of my students completed the program last school year and they each earned 18 credit hours for college. One student enrolled in the Mary Lou Fulton Teachers College at Arizona State University and because of the 18 hours of college credit from the CCL program, she was fast tracked into an internship in elementary education." she said.
Ettinger said the three students completed the program with "grace, dedication and grit" while also finishing their senior year with a full schedule and after-school jobs.
"They were committed to completing the program and earning the additional credit hours to help set them up for success in college," she said.
An early childhood education certificate can lead to an entry level position within the early childhood education industry. Students who become employed in the early childhood education industry are also eligible for state funded scholarship dollars that will pay all costs for completion of an associate degree.
Learn more about Rio Salado's education programs
Contacts
Rio Salado College: Michelle Reese, Program Manager/Communications, 480-628-1301 (cell) michelle.reese@riosalado.edu
American Family Institute: Manami Suenaga, AmFam Community and Social Impact Specialist, manami.suenaga@amfam.com
About Rio Salado College
Rio Salado College is one of ten Maricopa Community Colleges and one of the largest online public community colleges in the nation, serving nearly 40,000 students annually with more than 28,000 online in 50 states. Founded in 1978 and headquartered in Tempe, Arizona, Rio Salado College offers 600+  online classes, 135+ degree and certificate programs and general education courses. The college also provides support for dual enrollment, military and incarcerated students, and serves as the largest provider of adult education in Arizona.
About American Family Insurance Institute
Founded in 2018, the American Family Insurance Institute for Corporate and Social Impact ("the Institute") is a public benefit corporation based in Madison, Wisconsin with the mission to strengthen communities and close equity gaps in the focus areas of education, healthy youth development, economic opportunity, and climate resilience. The Institute invests in and partners with non-profits, governmental organizations, early-stage startups, and community leaders to advance change in our focus areas.
The Institute is part of the parent corporation, American Family Insurance ("AmFam"), a Fortune 300 company that ranks as the 13th largest property and casualty insurance group in the nation. American Family Insurance is  a mutual company with the mission to be the most trusted and valued customer-driven insurance company.