Monday, September 19, 2022
Notice
This article appears for archival purposes. Any events, programs and/or initiatives mentioned may no longer be applicable.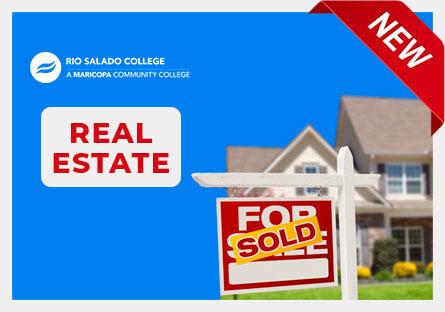 The field of real estate offers a number of careers, from brokers and agents to appraisers and investors. Students enrolled in the first cohort of Rio Salado's new real estate program are eyeing all those jobs and more.
Rio Salado's Certificate of Completion (CCL) in Real Estate: Prelicense introduces students to the real estate profession and prepares them to meet the requirements to take the Arizona State Real Estate Salesperson's Exam. 
The cohort started their first course - REA179: Real Estate Principles - in August. A second cohort will launch in October, with students having the option of working together through the 6.5 credits that make up the CCL.
"The course is taught by a qualified, independent broker with decades of experience in the field and the textbook used for the course was specifically chosen for its high passing rate with students," said Lily Davidov, Rio Salado's faculty chair for Accounting, Small Business, and Insurance Studies. "We are very excited for the launch of this innovative program and look forward to many additional future cohorts."
In Arizona, potential agents must complete 90 hours of pre-licensing education, such as that offered at Rio Salado, in order to receive their education certificate. The certificate is their ticket to sit for the Arizona licensing examination. An Arizona license is good for two years. 
Rio student Emily McCallum, a member of the first cohort, said her interest in real estate started after she received her diploma.
"I was always told the learning was difficult and often didn't work with busy schedules," she said.
But then she found Rio. 
"I am glad to be able to do the class with an instructor still in the comfort of my home at a time that works with my schedule," she said.
Classmate Josh Johnson hopes to enter the field of appraisals one day.
"The course is very informative and as I progress through the course I am now considering obtaining my real estate license as well to broaden my ability to be involved in the world of real estate," he said.
Stephen Washington, another member of the first cohort, enrolled in the classes to add to his 15 years experience in the real estate field.
"I decided to utilize this knowledge and expertise to take on the challenge of obtaining my license," he said. "I love real estate and believe it is the key to wealth and financial freedom. I want to learn everything I can about it. I enjoy the course, the content, and the setup."
The cohort's instructor, Laura Kovacs, acknowledged the various paths students can take upon completing the class.
"The world of real estate offers incredible opportunities for someone with an entrepreneurial spirit and this class can open endless doors for someone who wants to be an independent business owner," she said. "If you are committed to your success, if you understand what differentiates you from others, if you think you are good at communicating your personal brand and vision, and if you want a career that offers something different every day – real estate might be the right place for you."
The Bureau of Labor Statistics reports that growth in the field will be about 5 percent from 2021 to 2031. Oftentimes, these openings come from retirements or those who transfer to other occupations. Indeed.com reports the average realtor salary for a Phoenix-area agent is $111K with a range from $58K to over $200K. The median salary is $75K, according to Monster.Com.
Learn more about the licensing requirements on the Arizona Department of Real Estate website.
Request more information about the program or apply today online. The January 2023 cohorts start the week of January 10. You can also email Dr. Lily Davidov at lily.davidov@riosalado.edu if you want to register.