Friday, September 16, 2022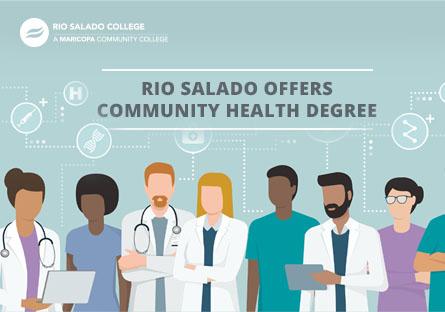 Do you feel a calling to serve your community? Are you interested in learning about a form of healthcare that applies a more socially conscious and focused approach toward the physical and mental well-being of people living in a specific community? Rio Salado College has recently launched a new 2-year Community Health degree program that offers a comprehensive introduction and immersion in this exciting medical specialty.
What is Community Health?
Community Health examines public health on a local, personalized level. Community Health deals with social factors and health disparities, in addition to resources that can impact access to medical care. Community Health examines the mindsets of both medical practitioners and patients in order to create more effective ways to provide care and communicate with the public. Community Health covers health issues ranging from drug use and sanitation to disability management and improving access to care in under-served populations.
How Long Is The Program?
The Associate in Arts (AA), Emphasis in Community Health degree program requires 60-64 credits to complete. This degree provides the first two years of a four-year curriculum for students who wish to specialize in either community health, integrative health, health care coordination, or other related health system fields. Students planning on pursuing a four-year degree in Community Health or a related field can save a significant amount of time and money by completing Rio's AA program first.
What Will I Learn?
Our Community Health program offers a breakdown of the U.S. health system, examining the many components of an effective healthcare setting. This degree will give students a firm grounding in the ethical and legal standards of their profession, as well provide a deeper understanding of sociology, psychology, and other aspects of human behavior that they'll deal with as a healthcare worker/community health professional. Community Health examines individual and social determining factors that can lead to health inequities and provide students with the tools they need to help address these issues.
The Community Health degree also teaches strong communication skills that will help graduates work with diverse groups. These softs skills are highly in-demand across many industries (not just in the health field!).
What Career Opportunities Can This Degree Unlock?
Gaining a background in Community Health can prepare you for a variety of health care roles that include:
Patient service coordinator 
Wellness consultant 
Clinic receptionist 
Health coach 
Research assistant 
Outreach specialist
Social service worker 
Environmental health specialist 
Community health organizer 
Health educator 
Dietitian
And more!
According to the U.S. Bureau of Labor Statistics, overall employment in healthcare occupations is projected to grow 13% or more from now until 2031, an increase that could lead to more than 2 million new jobs over the decade. In addition, the BLS predicts that there will be around 1.9 million healthcare workers retiring or needing to be replaced each year, so the demand for dedicated and trained healthcare workers is very high. 
Interested in Learning More?
If you'd like to learn more about our Community Health program fill out this form or reach out to our recruitment team at (480) 517-8000. They're available 8 a.m. - 5 p.m. Monday-Friday.