Notice
This article appears for archival purposes. Any events, programs and/or initiatives mentioned may no longer be applicable.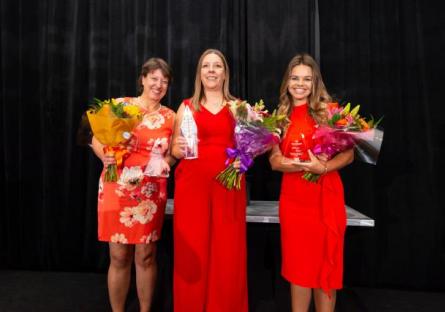 Rio Salado's Janelle Elias Named Tempe Chamber's 2022 Business Woman of the Year
Rio Salado College's Janelle Elias was named the Tempe Chamber of Commerce 2022 Business Woman of the Year during the 27th annual Leadership Conference & Expo held May 20.
Elias, Rio's vice president for strategy and advancement, was selected through a nomination and interview process by the Chamber's Women in Business Council. She was honored for her devotion to helping others succeed through mentorship and education. Elias was recognized on stage with her fellow nominees, Alison Stine of Stine Wealth and Marni Anbar, co-creator of The DISCOVERoom.
Elias acknowledged the Chamber for its work during an address to the group at the event. 
"Thank you for welcoming me into your community and for creating moments that connect leaders, small business owners, and entrepreneurs," she said. "Thank you for partnering with our college to understand and address the workforce needs in our community and for your unwavering support of education in Tempe."
She also recognized her own mentor, Rio Salado College President Kate Smith.
"President Smith has demonstrated to me how to create a culture of innovation and care, where everyone feels supported and safe to take risks. Working alongside leaders like her, and you all, make me better," Elias said.
"We are incredibly proud of Janelle, who has served our college in deeply impactful ways, especially through her leadership, strategic thinking and development of new community partnerships," said President Smith. "I admire and congratulate Janelle, Ms. Anbar, and Ms. Stine for being great role models. Our many thanks to the Tempe Chamber for recognizing these outstanding leaders and for partnering with Rio Salado College for the last 26 years."
The Chamber began the Women in Business award in 1996.
"The Business Woman of the Year award is one that I am particularly proud of, as it aligns with the Chamber's efforts to recognize excellence in a multitude of business sectors, sizes, and regions," said Chamber President and CEO Colin Diaz, ACE, IOM. "Janelle embodies all that this award represents, and it was an honor to watch her join a sorority of past amazing recipients and be recognized by the Chamber's Women in Business Council. Her impact in the community is nearly indelible."
In her role with Rio Salado, Elias focuses on strategic planning, incubating big ideas and scaling innovations across the college and country. She was named vice president of strategy and advancement in January 2022, after a nationwide search. In 2019, she took on the role as interim vice president of strategic initiatives and national division at the college. She joined Maricopa Community Colleges in 2016.
"To me, it's not awards or titles that are the measure of one's success, but rather the positive influence one can have on the lives of others, and the ripple effect that impact will have on our community at large." Elias said.
Elias is a first-generation college student and graduate of Chandler-Gilbert Community College and holds a bachelor's degree from Georgia Southern University and a master's degree from University of Phoenix.
The Tempe Chamber of Commerce's Women in Business Council works to foster the growth and success of women in business through ongoing personal and professional development, in order to improve Tempe businesses and the community. The Council also offers a dynamic mentoring program to develop high potential Tempe Chamber of Commerce members by coaching them to reach for and achieve their full potential. 
Learn more about Janelle Elias' dedication to education and mentorship in this video created for the event. https://youtu.be/pwdMjr4fAow
 
About Rio Salado College:
Rio Salado College is one of ten Maricopa Community Colleges and one of the largest online public community colleges in the nation, serving nearly 40,000 students annually with more than 28,000 online in 50 states and internationally. Founded in 1978 and headquartered in Tempe, Arizona, Rio Salado offers 600+ online classes, 135+ degree and certificate programs and general education courses. The college also provides support for dual enrollment, military and incarcerated students, and serves as the largest provider of adult education in Arizona.
About the Tempe Chamber of Commerce:
For more than a century, the Tempe Chamber of Commerce has built an environment that enhances the economic vitality of its membership and the business community. Representing over 500 businesses, the Tempe Chamber of Commerce strengthens the local economy through network development, advocacy, professional development, and influence. It regularly advocates for a favorable business climate through interactive public policy engagement and provides ongoing representation in government at local, state, and federal levels. For more information on the Tempe Chamber of Commerce, please visit www.tempechamber.org or call 480-967-7897.