Friday, September 23, 2022
Notice
This article appears for archival purposes. Any events, programs and/or initiatives mentioned may no longer be applicable.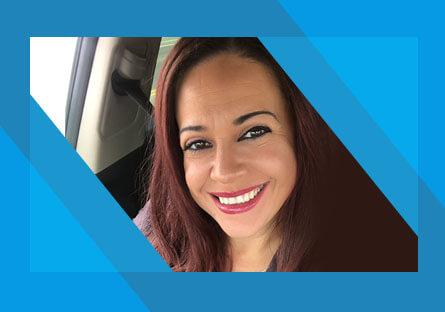 By Mira Radovich, Senior Contributing Writer
When the restaurants she worked at closed during the Covid pandemic, Blair Bernal knew something had to change.
"I was a server for a casino banquets department, but because there were no large gatherings due to the pandemic, no shifts were available for work," Bernal said. "At that point, I realized I needed to get a degree to have job security."
Bernal looked at her education options and decided the flexibility of online classes fit her life the best.
"I chose to enroll at Rio Salado College because it was an online school," Bernal said. "Plus, it is also close to my home if I ever need to go in person for any reason."
In addition to being furloughed, Bernal, a single mother of two children, was also financially impacted when a monthly child tax credit was unexpectedly withdrawn.
"We stopped receiving the IRS child tax credit per month out of nowhere," Bernal said. "That being said, I was not on unemployment, leaving me with nothing left on the side."
To make sure her education did not take a back seat, Bernal applied for and received a Thor Family Endowed Scholarship from Rio Salado in spring of 2022.
The Thor Family Endowed Scholarship was one of the first endowed scholarships for the college.
"Receiving this award was a lifesaver," Bernal said. "It helped me in so many ways - with rent, utilities, food, and most importantly, education, so I can pursue a better career for my children and I."
Bernal is currently enrolled in the public administration associate degree program.
"I feel a very strong pull to follow in my mother's footsteps and pursue a career in the government," Bernal said. "My goal is to finish my Rio degree in 2023 and transfer to a university to further my education and get a stable job working for the government." 
Bernal currently works for the House of Representatives at the Arizona Capitol. 
"I want to attend college until I've attained my master's degree and then move up into influential positions and help out others with my knowledge, education, and experience," Bernal said.
The Maricopa Community Colleges have made it easy to apply for hundreds of student scholarships with one application. The deadline to apply for spring 2023 scholarships is Oct. 31, 2022. Apply now!