Tuesday, September 6, 2022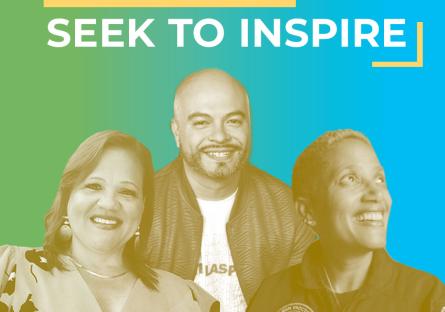 Student Success Series: Seek to Inspire
Join our special guest speakers for Seek to Inspire, a series of three virtual workshops designed to motivate you and provide you with tools to achieve your goals. Take advantage of these FREE interactive workshops, and register for each one you would like to attend! Learn more at maricopa.edu/seek-to-inspire.
Set It Off: Goal Setting and Getting Through Courage and Connection
Wednesday, September 14, 2022 | 6 p.m. - 7:30 p.m.
Our individual goals energize us and allow us to achieve our greatest dreams. But we don't go far when we go alone. Author and speaker Marisel Herrera will share tips on getting fired up about your goals and how to cultivate the courage and connections needed to achieve them with a "dream team."
What to Get Out of Your College Education (Besides the Degree)
Wednesday, September 28, 2022 | 6 p.m. - 7:30 p.m.
Future employers are looking for well-rounded individuals with excellent leadership and communication skills and experience. Inspirational speaker Ernesto Mejia will teach you how to become invaluable to a company and always in demand in the workforce. This session will challenge and inspire you to make the most of your education.
Space2inspire
Tuesday, October 18, 2022 | 6 p.m. - 7:30 p.m.
Dr. Sian Proctor, the first African American woman to pilot a spacecraft, is a geoscientist, explorer, space artist, and astronaut who will share her experiences and wisdom—encapsulated in her motto, Space2inspire—to galvanize you to use your unique, one-of-a-kind strength and passion to achieve your goals.