Notice
This article appears for archival purposes. Any events, programs and/or initiatives mentioned may no longer be applicable.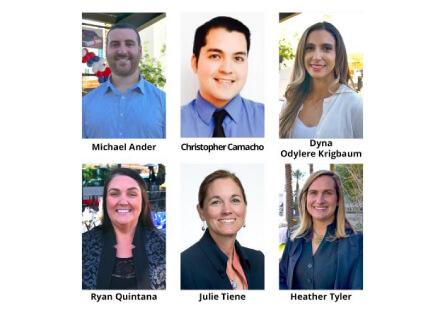 University of Arizona Global Campus Announces Rio Salado Scholarship Winners
The University of Arizona Global Campus (UAGC) announced the winners of its UAGC-Rio Salado Partnership Scholarships last week. UAGC awarded approximately $180,000 in full-program scholarships to six recipients – four alumni and two faculty/staff members. Recipients were chosen based on essay responses in their applications and their academic achievements.
"We are pleased to award these scholarships as a core part of our mission to make quality college education accessible to adult learners through online, flexible degree programs," UAGC President Paul Pastorek said.
The winners were honored at a ceremony held at the University of Arizona Global Campus headquarters in Chandler. Recipients shared their essays at the ceremony, each recipient's essay telling a unique story – of first-generation college students, overcoming obstacles, the pursuit of higher education and ambitions for the future. The six winners are:
Michael Ander, Rio Salado graduate, working as a police officer and pursuing a BA in Social and Criminal Justice;

Cristopher Camacho, Rio Salado graduate, working in the technology field and pursuing a BS in Computer Software Technology;

Dyna Odylere Krigbaum, Rio Salado graduate, working in commercial real estate and pursuing a BA in Project Management;

Ryan Quintana, Rio Salado graduate, working in human resources and pursuing a BA in Human Resources Management;

Julie Tiene, Rio Salado full-time staff, working in business services and pursuing an MBA;

Heather Tyler, Rio Salado full-time staff, working in academic affairs and pursuing a PhD. In Education
"We share our heart-felt thanks to UAGC for this scholarship program and the community outreach extended to scholars at Rio Salado, the Maricopa Community Colleges, and other educational institutions across the country," Rio Salado President Kate Smith said. "We truly appreciate our partnership with UAGC and are so proud to be a part of the journey of these amazing scholars."
The alumni at the event shared their stories about how they came to Rio through different paths that led to this moment.
Determined to make the best for her future amidst great uncertainty, Quintana decided to pursue her education in summer of 2020 after her company closed its doors during the pandemic. 
"It was the first time in 14 years that I didn't know what to do," she said.
She researched college opportunities and found Rio to be a best fit.
"I remember sitting down with my husband and saying, 'I think I want to go back to college.' … He knew that wasn't just a statement. I had a plan and purpose," she said.
She spent hours working on her associates degree, graduating in December 2021, and has already completed one class through UAGC.
Odylere Krigbaum told her story about being a first-generation college student and the struggles she faced as a Latina growing up.
"I have experienced first-hand being an outsider. … I experienced harassment, violence. I didn't let that stop me. I made every effort to learn," she said. "I am confident I will be successful and will encourage Latinas and all women of color to any career they choose, even if it feels noninclusive and lacking diversity."
She also completed her associates degree this past December.
A decade after completing his associates degree from Rio, Ander said, "it was just time" to commit and complete his bachelor's degree.
"As a first-generation college student, I was determined to make a better life for myself, my fellow citizens, my friends, my neighbors, and people I've never met," Ander said. "I left college to pursue my dream of becoming a police officer. … I am in a unique position to have a positive impact on people's lives during some of the worst times of their lives."
Ander, who currently serves as a police sergeant in the East Valley, sought out the opportunity to through UAGC to earn his bachelor's degree and has already begun his courses.
Tyler, associate dean of instruction and workforce partnerships, works directly with Rio Salado's incarcerated re-entry program and said the UAGC doctorate program will provide an opportunity to dive deeper into teaching practices in the field as Rio remodels it for the future.
"I want to say how honored and humbled I am to be in the cohort of these awardees … you will hear in my essay how much I love my job and where I get to work and it's because I get the opportunity to work with students like you and that is everything," Tyler said before sharing her essay.
The transfer partnership between UAGC and Rio Salado began in September 2020. Scholarship recipients can pursue degrees in more than 50 programs UAGC offers, including these seamless transfer pathways from Rio Salado College to UAGC, which give students an opportunity to earn up to 90-credit hours in transfer.
About University of Arizona Global Campus
The University of Arizona Global Campus (UAGC) is an independent university that is operated in affiliation with the University of Arizona. UAGC is designed to provide flexible opportunities for working students from diverse backgrounds who seek to gain knowledge and skills that will help them to achieve their life and career goals. UAGC is accredited by the WASC Senior College and University Commission (WSCUC) and is one of the nation's most innovative online universities with approximately 30,000 students. UAGC offers more than 50 degrees at the associate, bachelor's, master's and doctoral levels. For more information visit uagc.edu.