Notice
This article appears for archival purposes. Any events, programs and/or initiatives mentioned may no longer be applicable.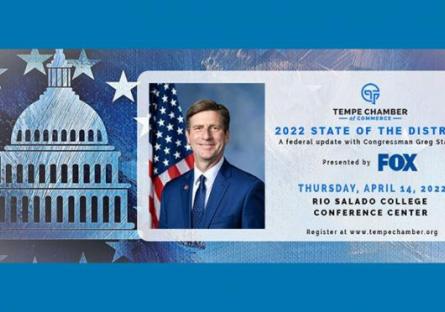 U.S. Rep Greg Stanton to Give Federal Update at State of the District
Tempe, Arizona (April 8, 2022): Members of the media and the public are invited to attend the Tempe Chamber of Commerce's State of the District address with U.S. Rep. Greg Stanton Thursday, April 14 from 9 – 10:30 a.m. This annual event welcomes community, educational, political, and civic leaders for brunch while Stanton provides an update on federal issues affecting our district, state and country. Time for questions and answers will follow his remarks.
"We are excited to come together for this annual event and hear remarks from U.S. Representative Stanton. Additionally, being able to do so in person, thanks to our partners in Rio Salado College, is an added bonus." said Tempe Chamber President & CEO Colin Diaz, ACE, IOM.
"In Congress, I've worked every day to drive job creation, invest in our workforce and promote economic opportunity in the East Valley. I'm excited to update our community partners on all we've accomplished over the last year to recover from the pandemic and build a 21st century economy," said Stanton.
"We look forward to welcoming Representative Stanton and celebrating the important work under way in the 9th congressional district to make education accessible, equitable and relevant to the communities we serve," said Rio Salado College President Kate Smith. "We are grateful to partner with the Tempe Chamber and the City of Tempe to support a thriving workforce."
Event information at-a-glance:
What – U.S. Rep. Greg Stanton (D-AZ) speaks to business, community, and educational leaders in an annual State of the District address, organized by the Tempe Chamber of Commerce
When – Thursday, April 14 from 9 – 10:30 a.m. 
Where – Rio Salado College Conference Center, 2323 W. 14th St., Tempe
Serving as Phoenix mayor from 2012-2018, Congressman Stanton focused on building an economy rooted in innovation and trade. Under his leadership, Phoenix created thousands of quality jobs and recently saw the highest wage growth in the nation. In 2015, Stanton won reelection and successfully led one of the most ambitious transportation initiatives in the country—a bipartisan, voter-backed plan to extend Phoenix's light rail system, expand bus service, and improve thousands of miles of roadways over the next 35 years. 
During his time in Congress, Stanton has focused on increasing trade opportunities in Arizona, planning for the state's water future, and investing in public transportation and infrastructure. Recently, his bills to expand tourism opportunities in Arizona and invest in critical local water infrastructure projects across the state were signed into law. Stanton is a member of the Transportation & Infrastructure Committee and the Judiciary Committee.
Media RSVP can contact David Key, Tempe Chamber Marketing & Program Manager, at (480) 736-4286 or david@tempechamber.org.
The link for public registration is now closed. Seating will be limited and no day-of registration will be accepted.
About the Tempe Chamber of Commerce:
For more than a century, the Tempe Chamber of Commerce has built an environment that enhances the economic vitality of its membership and the business community. Representing over 500 businesses, the Tempe Chamber of Commerce strengthens the local economy through network development, advocacy, professional development, and influence. It regularly advocates for a favorable business climate through interactive public policy engagement and provides ongoing representation in government at local, state, and federal levels. For more information on the Tempe Chamber of Commerce, please visit www.tempechamber.org or call 480-967-7897.
*Page updated to note closure of registration as of 4/25/2022.