Notice
This article appears for archival purposes. Any events, programs and/or initiatives mentioned may no longer be applicable.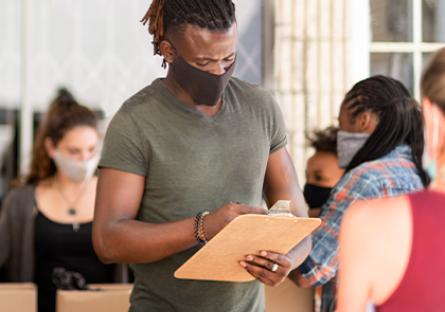 Volunteering Can Build a Stronger Resume
Giving back to your community is good for your mind and spirit, but did you also know that it can be good for your career? Volunteering can give your resume that extra boost that makes you stand out from the rest of the pack. It can also help you develop skills that will make you a good fit for any office culture.
What Volunteering Can Do For You
Networking: Volunteering is a low-pressure way to meet people and socialize. It affords you the opportunity to get to know your community, and you never know if someone you cross paths with as a volunteer could turn out to be a future employer or someone who could vouch for you and help you get your foot in the door.

Collaboration: Most volunteer efforts are group-based. Working with volunteer groups can help you build your collaborative muscles, making you a more attractive prospect to hiring managers as a team player.

Skill Training: If you volunteer for an organization whose interests are closely aligned to your desired career, you can get some insight into what prospective jobs in that field are like. Like with interning, it's a way to "try before you buy" and gain some first-hand knowledge of what to expect.
"I believe that volunteering offers us an important opportunity to learn about ourselves and the lives of others," said Sarita Hemmady, Adjunct Counseling Faculty at Rio Salado College. "Find an organization that speaks to you in some way, whether personally or professionally." 
Does It Look Good On A Resume?
According to a study cited by Fortune.com, 82% of hiring managers interviewed by researchers said they "prefer applicants with volunteer experience, and 92% say volunteer activities build leadership skills." The Corporation for National and Community Service (CNCS), the agency that oversees AmeriCorps, conducted a recent federal study that found that volunteering can make a difference when it comes to finding a job. According to the CNCS study, volunteers have a 27% higher likelihood of finding a job after being out of work than non-volunteers. The study also found that volunteers without a high school diploma have a 51% higher likelihood of finding a job. Giving back to the community can potentially help you grow and help you on your job hunt.
"As you spend time in that environment, take some time to think about how your volunteer experience has impacted you or someone else and what skills and knowledge you have gained, including soft skills," Hemmady said. "These insights are not only important as you explore your career path or prepare for an interview - they are also valuable in your growth as a human being."
How Do I Put My Volunteer History On A Resume?
Formatting a resume can be tricky, but there are some good rules of thumb to apply when it comes to putting down volunteer work on a resume. This article by The Muse offers some very helpful pointers on how to format and present your volunteer work experience.
A Caveat
One important thing to keep in mind is that your volunteering work may tell your prospective employers more information about you than you're comfortable sharing, Hemmady noted. For example: putting on your resume that you volunteered for a political or religious organization could reveal your personal  beliefs to employers, which may make you more vulnerable to unintended bias. 
We're Here To Help
Whether you're looking for advice to help you succeed on your job hunt or want to know more about resources that can connect you with organizations looking for volunteers, our Career Services center is here to help. Give us a call at 480-517-8785 or fill out this form to schedule an appointment.