Notice
This article appears for archival purposes. Any events, programs and/or initiatives mentioned may no longer be applicable.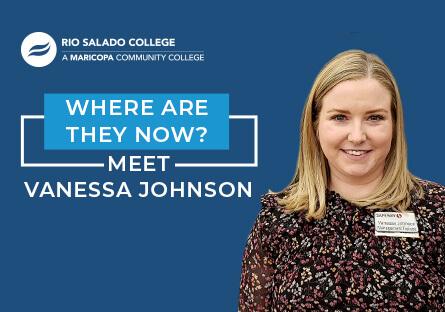 Where Are They Now Alumni Profile - Meet Vanessa Johnson
Rio Certificate Program Helps Lead Employee to Promotion
By Mira Radovich, Senior Contributing Writer
Vanessa Johnson has always enjoyed working for grocery retailer Albertsons. She was looking for a way to advance in the company when she found out about the Retail Management program offered online at Rio Salado College.  
This certificate program was created in partnership with the Western Association of Food Chains (WAFC), Maricopa County Community Colleges, and grocery industry partners.  
Since Rio Salado College is an approved WAFC community college, Johnson was able to earn an Industry Certification in Retail Management from the WAFC as well as a certificate of completion from Rio Salado College.
"Being already employed, I was looking for tools to take my career to the next level," Johnson said. "I chose Rio because it allowed me to fit full-time school into my schedule. The flexibility to learn when it was convenient for me was a game-changer."
In November 2021, Johnson completed a certificate of completion in retail management. She is currently working on her associate degree in the same program, and already reaping the rewards of her efforts.
"Halfway through the certificate, I was promoted to a managerial position within Albertsons," Johnson said. "After completing the certificate, I was accepted into a 10-week assistant store director trainee program."
Johnson said upon completion of the training program, she will be eligible for promotion to the role of assistant store director.
"Rio gave me the tools and knowledge to get promoted and accepted into the training program," Johnson said. "Even the certificate courses have enriched my career. I often found myself completing a lesson, turning in my assignment, and incorporating my learnings into the workplace within days."
Johnson was new to online learning when she began her Rio Salado journey.
"Learning at home was new for me," Johnson said. "I was the only person to hold accountable for my learning. It wasn't easy but it was worth it."
For students in the same situation, she offers two tips for success.
"Schedule time to study and complete your assignments and make it a priority to follow that schedule," Johnson said. "I also recommend taking advantage of all the available resources, such as library, tutoring and academic advising."
Thanks to her family, her employer, and Rio Salado, Johnson sees a bright future ahead.
"I intend to continue my career at Albertsons Companies and become a store director," she said. "Without Rio, I simply would not have been able to fit school into my work schedule. My family sees how hard I have worked to get where I am, and I couldn't have done it without their support."