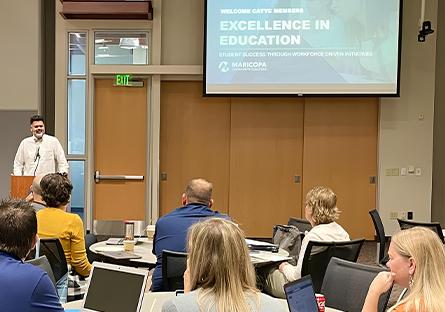 The Council on Accreditation for Two-Year Colleges (CATYC) held its fall conference at Rio Salado College Oct. 1-3, and invited President Kate Smith to share welcome remarks. Additionally, President Smith shared a keynote address regarding workforce development initiatives underway at the Maricopa Community Colleges. 
President Smith presented on behalf of the Maricopa Community Colleges and Chancellor Steven Gonzales, highlighting the colleges' workforce development programs that prepare students to quickly fill critical vacancies in the semiconductor, aerospace, artificial intelligence, and construction industries— and continue their higher education.
"We are honored CATYC chose Rio Salado to host the 2023 conference and gave us an opportunity to share information about the extraordinary work being done at the Maricopa Community Colleges," said President Smith. "We admire the leadership, advocacy and learning that CATYC provides for its members."
Among the many programs President Smith highlighted were Rio Salado's National Science Foundation Semiconductor Nano Knows No Limits and Microelectronics and Nanomanufacturing Certificate for veterans, adult education and dual enrollment students— and the Maricopa Community College's Quick Start Program; a 10-day, immersive training program designed to help students fill in-demand general (industrial) technician semiconductor jobs. 
Quick Start was created by the Maricopa Community Colleges, local semiconductor companies and their suppliers, and other community partners to create a pathway that qualifies completers for full-time employment, benefits, and an exciting new career with leading semiconductor businesses. 
The training program is taught by an industry professional and includes a dynamic mix of video lectures, quizzes, and hands-on labs. No prior experience is necessary.
"This is an exciting time for students, employers and community colleges," said President Smith. "There is an extremely high demand for skilled workers, which can lead to promising socio-economic opportunities for students, families, and their communities. We are honored to partner with industry and other educational institutions to create short-term training for students to fill entry-level jobs—  and pathways to help them continue their higher education journey."