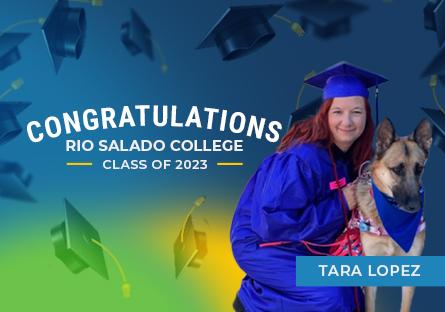 Tara Lopez had always been a driven and determined individual. As a 48-year-old wife and mother of two adult children, she faced numerous challenges throughout her life. But she never let those obstacles hinder her dreams.
In May 2023, Lopez proudly walked across the stage at the Rio Salado College Commencement after completing her degree in Organizational Management. It was a moment of triumph for her, as it marked her first college degree and a significant milestone in her personal journey.
Lopez's decision to pursue higher education was inspired by her son, who enrolled at the University of Arizona but had to switch to a community college due to rising costs and the impact of the COVID-19 pandemic. Seeing her son's determination to continue his education despite the challenges he faced, Lopez felt a renewed sense of purpose. She realized that it was finally time for her to fulfill her own educational aspirations.
"Honestly when I first started, I didn't know what I wanted to do," she said. "I did a little bit of community college when they were young." 
She began by taking computer classes and exploring her passion for creative writing. Her husband and a Rio counselor encouraged her to pursue a degree in business.
"I thought, 'I'm going to pull my teeth out. This is going to be so boring,'" she admits. "I took my first business class and I loved it. It was all about writing and I've excelled with all those."
As she worked toward her degree, Tara also managed her own successful pet sitting and dog walking business, Spoiled Dog Kare. She started the business in 2018, combining her love for animals and her entrepreneurial spirit. To fit education in, Lopez sometimes rose in the very early hours to work with the animals and complete school work.
In October 2021, Tara's dedication and hard work caught the attention of Dr. Lily Davidov, Rio Salado's Faculty Chair of Business, Entrepreneurship and Management. Lopez entered a competition for entrepreneurs during Small Business Week and was surprised when she won. This recognition gave her the confidence and validation she needed to continue expanding her business.
Lopez's journey took another unexpected turn when she attended a small business event at the Capitol. There, she was approached by the Arizona Hispanic Chamber of Commerce, who invited her to participate in a pilot program aimed at supporting veteran- and women-owned businesses.
"It all just fell all in place," she said.
Balancing her academic pursuits, her business, and her family life was no easy task. Tara's son recently turned 23, and her daughter will soon celebrate her 25th birthday. She and her husband celebrated her 25th wedding anniversary in March. Additionally, Lopez is training her female dog, Zelda, to become a service dog. 
Lopez is now pursuing a bachelor's degree through NAU, utilizing the 90/30 partnership with Maricopa Community College District, allowing her to transfer up to 90 credits toward her degree.